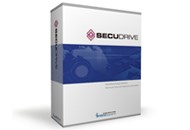 San Jose, CA (PRWEB) September 30, 2013
Brainzsquare releases a new file server security solution with copy protection technology for Network Attached Storages, SECUDRIVE NAS. SECUDRIVE NAS makes it possible to prevent files stored on shared folders from leaving or being leaked from the network drive due to unauthorized copying or printing. Administrators can also audit and monitor files activities utilizing the detailed event log. This solution is compatible with not only the Windows Storage Server, but can be embedded to Linux as well.
Using network attached storages (NAS) or shared folders connected through the network drive are a convenient way to share and collaborate on files in the workplace. However, this type of file security comes with very little security and access control for those in charge. With SECUDRIVE NAS, administrators can just install the server program onto the existing shared folder or file server, and users will only be able to access the shared folder if they have the SECUDRIVE NAS client program downloaded on their PC. From there, administrators can set security policies for the users using the manager program, such as copy protection and print protection.
Administrators can choose which applications are unrestricted on the shared folder. With copy protection activated, only applications allowed by the administrators will be able to open the files on the shared folder. Users who can access these files will not be able to copy and paste, clipboard copy and paste, or screen capture the data on the shared folder. Administrators can deny printing of files on shared folder or allow printing with a customizable watermark. When printing is allowed, this solution will automatically encrypt the printer spool files, preventing any data leakage.
Another feature of SECUDRIVE NAS is the detailed event log. Administrators can now monitor how files on the shared folder are being used by whom because the detailed event log of SECUDRIVE NAS records details such as user name and file actions such as read, write, rename, delete, copy, paste, and copy attempts on a file with copy protection on.
"SECUDRIVE NAS allows workplaces to easily and securely share and collaborate on files within the workplace using shared folders on the network attached storage. With a simple setup, copy protection, and a detailed event log allowing administrators to monitor file activity, SECUDRIVE NAS can be one of the best security solutions for the network attached storage for small to medium size businesses," said Simon Kang, CEO of Brainzsquare.
About Brainzsquare:
Founded in 2000, Brainzsquare has been serving specialized and innovative data security solutions in the market. In 2006, with the launch of the SECUDRIVE product line, Brainzsquare provides products ranging from secure USB flash drives and data erasure products to copy protection software, device control, and file server security for corporate customers and content publishers.
If you have any questions or inquiries about this article or its contents, please contact us.
Judy Yun
Brainzsquare
3003 N. 1st Street
San Jose, CA 95134
Tel: 1(800)464-9803
PR(at)secudrives(dot)com
http://www.secudrives.com
Follow SECUDRIVE:
Facebook: http://www.facebook.com/secudrive
LinkedIn: http://www.linkedin.com/company/brainzsquare-Inc-
Youtube: http://www.youtube.com/secudriveUSA
Twitter: http://www.twitter.com/secudrive