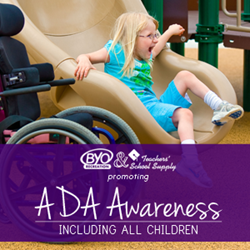 Creating an inclusive environment at school and within the community is important for all children.
St. Augustine, Fla. (PRWEB) September 30, 2013
BYO Recreation and Teachers' School Supply are putting their focus on inclusion and the Americans with Disabilities Act (ADA) for the month of October, aiming to support Down Syndrome Awareness Month and Spina Bifida Awareness Month.
According to the National Down Syndrome Society's Web site, inclusion is an educational process by which all students, including those with disabilities, are educated together for all, or at least most, of the school day. Various studies have reported the benefits of inclusive education.
Creating an inclusive environment at school and within the community is important for all children, not just children with special needs. Inclusion helps children develop a positive understanding of themselves and others, teaching them that everyone is different and unique. The earlier children are in an inclusive environment, the better; children learn early on that individuals have differences and learn at different paces. This helps them gain the understanding that working together is natural and has a positive effect on everyone.
Inclusion creates a sense of community between children, parents and teachers. Working together in an inclusive environment fosters acceptance of diversity, allowing children to learn confidence, develop social skills and grow self-esteem.
During the month of October, visit BYO Recreation's Blog and Facebook, where BYO Recreation and its family of brands will promote the awareness of Down syndrome and Spina Bifida and help inform parents, schools and facilities about inclusion and what can be done to help create inclusive environments for American children.
About BYO Recreation
Headquartered in St. Augustine, FL, BYO Recreation is one of the most comprehensive and fastest growing recreational equipment suppliers in the world. Since 1999, the company has helped thousands of schools, churches and communities create recreational spaces that are truly Beyond Your Ordinary.