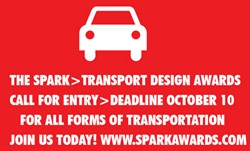 New York, NY (PRWEB) September 30, 2013
After 7 years of building a world-leading design award, Spark has launched the Spark>Transport Award for 2013. Information and communication technology is enabling mobility to go to the next level. Mobility is moving into a world with a rich new spectrum of transportation products and services. They address vital social concerns and can help billions of people to live better lives.
Spark>Transport is the first US-based design competition focused on mobility. Given the importance in promoting breakthrough transport design, Spark is striving to become the most respected mobility design award in the world. Spark>Transport will bring a new level of awareness to the design side of the smart mobility future.
With the 10/10/13 entry deadline rapidly approaching, Spark organizers encourage innovative designers and companies to enter Spark>Transport asap.
Spark President, Peter Kuchnicki, stated that "Spark Transport is one of our most exciting and important new competitions, exploring innovative transportation developments that use natural resources more efficiently. Spark Transport will shine a spotlight on audacious designs and technologies that challenge the current state of the art."
Spark Transport aims to identify solutions with the most potential, whether they be cars, bicycles, public transportation or other major modes perhaps not yet conceived. With the human population expected to exceed 9 billion before 2050 and global warming rapidly increasing, the need for sustainable and desirable transportation is of particular concern.
"Designers understand that today's consumers are looking to do their part to make the world a better place," said Kuchnicki. "A Spark Award clearly signifies and identifies a sustainable design."
Jury
"The Spark Juries are always exceptional and Spark>Transport is no exception," stated Jury Chair Geoff Wardle, Director of Advanced Mobility Research, Art Center College." The Jurors include:
Jean Jennings, President & Editor-in-Chief, Automobile Magazine
Dan Sturges, Hardware/Systems Designer, Project 100, Inc.
Christopher Chapman, Chief Designer, Hyundai Design North America
Dave Muyres, Director, Corporate Innovation Center, Johnson Controls Inc.
Brent Oppenheimer, Principal, O+CO
Anne Asensio, Vice President, Design Experience at Dassault Systèmes
Tom Matano, Executive Director, Industrial Design, Academy of Art University
Ryan Chin, Ph.D., Managing Director, City Science Initiative, Research Scientist, MIT Media Lab
Spark Background
The Spark Awards are a series of 7 competitions, each dedicated to an important design discipline. Spark>Transport is the latest Spark award to promote better living through better design. Now in its 7th year. Spark has different independent juries for each competition, and the jurors changes each year.
Participation
Designers can gain recognition and publicity for their skill and creativity by submitting their work. The entry system is simple and straightforward, with registration at the Spark website: http://www.sparkawards.com.
Bonus Information
Spark is proudly sponsored by Autodesk, Core77, ArchNewsNow, Archinect, Bustler, Pluo Consulting, Gensler and RIOT Creative Imaging.
ALL SPARK 2013 COMPETITIONS ARE NOW ACCEPTING ENTRIES
Spark>App
Spark>Concept & Student
Spark>Communication
Spark>Product
Spark>Spaces
Spark>Transport
The Spark Design Awards core mission is to help create a better world though design excellence.
The Spark competitions are open to all designers, including students (in Spark>Concept). The Spark Community may be joined at no cost. The Spark competitions have a variety of entry fees, depending upon the event. Submissions are made at the Spark website. Juries, composed of design professionals and experts, meet online and in person to choose Finalists and Winners.
Learn more about this organization and all these competitions at the Spark website landing page at http://www.sparkawards.com.