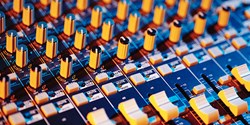 Voice over talents are some of the highest paid actors in Hollywood, but thanks to technology, now almost anyone can get in on the act.
New York, NY (PRWEB) September 30, 2013
The breakout independent film 'In A World' is thought to have spawned a surge of inquiries and jobs in one of the smallest but most lucrative industries. Voice over talents are some of the highest paid actors in Hollywood, but thanks to technology, now almost anyone can get in on the act.
With the advent of technology, the industry continues to evolve and advance online.
In less than ten years, the voice over industry has shifted from recording studios in big cities like New York, Los Angeles and Chicago, to professional home studios in small towns around the world. This has allowed many with stars in their eyes and a unique voice to make it big without stepping foot outside their home.
Traditional brick and mortar agencies are making way for online voice over casting websites which offer the same services at a fraction of the cost. What used to take days and even weeks is now being replicated in a matter of hours.
Robert James, Marketing Manager for voice over services website The Voice Realm, says that the movie has pushed the little known role of a voice over actor from a dark studio into the light. "Since the movie has become so popular over the past few months we have been inundated with enquiries about breaking into the voice over industry. But many don't realize there's a lot more to voice acting than just having a unique or pleasant voice."
Many people are quickly deflated when they realize that competition for roles is tough. Many actors may audition for hundreds of roles only to land one.
"Most assume that the job is purely reading text from a bit of paper, but people forget about the 'acting' part of the job title. The voice talent's job is to tell a story and create emotion purely through the voice. Before the word's even come out the mouth there's the direction that the client is looking for which must first travel through the ear and then the brain," Mr. James continued.
Recently there has also been a surge in audiobook recordings and e-learning narrations. A little known fact is that many audiobooks that run for 6-8 hours actually take up to a week to record.
But the big money comes from landing a plum role in a national radio and television commercial. Mr. James says that's like hitting the jackpot. "If you have the exact sound that the client is looking for and they hire you for a big campaign for a high profile company like McDonalds's or Coca Cola, you could be looking at $40,000 to $60,000."
Previously only actors in big cities would have had the chance to audition. But now with castings moving online almost anyone can send their audio sample to the client.
The Voice Realm website connects voice over talent with clients who are casting anything that requires a human voice such as corporate narrations, on-hold business phone greetings, internet whiteboard videos and even audio for personal use.
"Recently we had a client in Dubai who wanted to play audio at his wedding that replicated a Hollywood movie trailer voice. Complete with sound effects and music it actually sounded very real. Years ago it would have cost him around $5,000 to have made. Through our website he had it done for less than $175."
Voice over rates are determined by how long the audio is and where it will be used. A recording that is only going to be played to a small audience such as an on-hold phone message is going to be significantly lower that a TV spot which will be seen by tens of millions of people.
The growth of online voice over jobs has been a boon for professional male and female voices like Rachael West who is based in Colorado where she records in her studio for clients daily. "Sites like The Voice Realm have introduced really top notch clients to my voice and facilitated the beginnings of wonderful business relationships. The whole process, from booking a job to getting paid, can happen in less than a couple of hours in some instances."
Clients are able to post auditions for free and will begin to see responses from voice talent in less than one hour. This has allowed small business to hire the same voice actors that are used in national radio and TV spots on their phone greeting.
Mr James said he expects the industry to continue to grow into 2014 as more applications such as smartphone games utilize professional voice talent.
----
ABOUT THE VOICE REALM:
The Voice Realm is a voice over casting website where small and large businesses can find and hire professional voice over talent, actors, artists and announcers directly bypassing an agent.
Users can quickly find the perfect voice actor for phone greetings, radio or TV commercials, PowerPoint narrations, internet videos, web explanation, in-store announcer, voice over services, or corporate recordings and more.
The casting service is free and voice over rates any use except broadcast (TV and radio) is buyout, meaning that once paid for the client has unlimited use of the recording.
The site operates year round and 24 hours a day. Castings can be made across the sites three portals, http://www.thevoicerealm.com (Global) http://www.thevoicerealm.co.uk (British) and http://www.thevoicerealm.es (Spanish).
The Voice Realm also owns and operates Cheap Voice Talent Online and NYC Voice Over Agency.