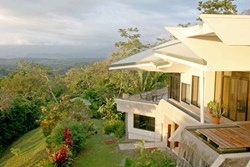 (PRWEB) September 30, 2013
Vacation rentals are no longer an esoteric way to travel. The internet has created an international, public marketplace whereby anything and everything can be traded, or rented—like one's home, for example. Websites like Homeaway/VRBO, Flipkey and Trip Advisor have created easy portals by which to 'shop and compare' vacation rentals. Technology allows the consumer to sort the options by price, number of bedrooms, location, or even character.
When the entire world becomes the marketplace, and every rental home out there a competitor, it's important to stand out. Which is why Casa de las Cascadas, in Manuel Antonio, Costa Rica, sets a high bar for the competition.
Set upon over two acres in a gated community, this luxury vacation rental home was designed by Andres Morales, a famous, local architect who specializes in modern design. To the west, sunset views over the Pacific paint a colorful scene. To the north, the dramatic Talamanca mountains, skirted in clouds, remind visitors that this is Costa Rica—not some, flat island in the Caribbean.
The entire home was designed around tropical living—at one with the outdoors, with fantastic air flow and 20-foot windows in the living area that overlook the pool. The kitchen, living and dining areas all communicate with the pool area. A covered breezeway accesses the two upper bedrooms, and a stairwell descends to the lower guest bedroom. An attached apartment is accessed via a short, garden trail that passes by the waterfall and lower pool.
The gardens are the floral dress upon the maiden fair. Flowering bougainvillea and other exotic plants attract a kaleidoscope of butterflies. Huge, 'elefant ears' sprout from beside the pool, as if eager for a dip. Cecropias, with their splayed leaves, attract sloths and toucans.
Anyone can rent such a luxurious place for a price—but that's where Casa de las Cascadas stands out. As a newcomer to the vacation rental market, the home has been priced well below comparable homes in the area, and represents an opportunity for groups and families traveling together to stay in elegance, while paying less than a similar hotel. Sleeping up to 10 people comfortably, the home ranges from $2,750 to $3,500 per week.
The word is out—now it is a matter of timing. Just as Manuel Antonio stands out as Costa Rica's prize jewel, Casa de las Cascadas is a hidden jewel in the modern marketplace of vacation rentals.