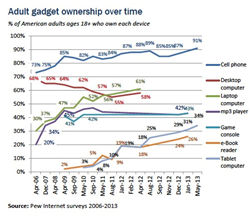 Mobile sites make navigation easier on the smaller screen and give potential customers the ability to buy something right on the spot. - Ana Cabrera
Barrington, RI (PRWEB) September 30, 2013
Business owners who want to promote their products should strongly consider adding a mobile web site to their marketing campaigns, according to The Link Agency.
The latest research from Pew Research Center, a Washington D.C. based nonpartisan think tank conducting surveys on issues and trends shaping America, shows 91% of Americans have a cell phone, and 56% of those are smartphones. Further, research showed that 63% adults use their phones to go online, with 34% using the phones exclusively to go online.
"The Pew study reflects similar experiences have had with our clients," said Ana Cabrera, Communications & Marketing Director for The Link Agency. "Just this morning, we were studying Google analytics for a new customer. We found that a full 60% of the hits were generated from mobile phones or a tablet. So we presented the client with our findings and they gave us the green light to build a mobile website for them."
The Pew study showed only 34% of Americans own a tablet computer. Cabrera said until those demographics change, chances are businesses will reach customers on the go via smartphones as opposed to any other device because so many people own them.
"It only makes sense that businesses cater to this huge customer base," said Cabrera. "Mobile sites make navigation easier on the smaller screen and give potential customers the ability to buy something right on the spot. Mobile sites are economical to build and to maintain and in this day and age should be an integral part of a total marketing campaign. Mobile sites translate into more leads, more sales and more profit!"
About The Link Agency:
The Link Agency, Inc. is a national advertising and marketing communications firm located in Rhode Island and offering scalable marketing solutions to help businesses and non-profits grow.