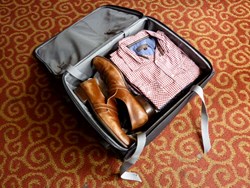 (PRWEB) September 30, 2013
Every Costa Rican travel guide, web site, and blog has a list of 'What to Bring' when visiting. But what about what not to bring? In effect, this question is secondary only to its predecessor, and important when visiting places such as Dominical.
Getting There and Away
Getting to Dominical is much easier than it used to be, but still slightly off the beaten path. The simplest way is to fly into San Jose, and catch a 25-minute Sansa flight to Quepos. From the Quepos airport, the drive in your rented car or private transportation is just 30 minutes—and one of the most gorgeous stretches or road in Costa Rica.
Of course, there is a weight limit on the domestic flight—30 pounds, in the case of Sansa. Which brings up a very pertinent question—if one wants to avoid paying $1 per pound excess baggage fee—what not to bring?
The question is very much in the spirit of travel in Costa Rica. Whether one is backpacking across the country, or staying in luxurious Villa de Agua, Costa Rica eludes a sense of simplicity, detachment and oneness with nature. Pack heavy when you go to New York. Pack light when you visit Costa Rica.
To each their own; however, here is a list of the most commonly un-needed items when traveling to Costa Rica:
1. High heels or fine shoes. The streets and sidewalks are uneven, and the beach doesn't lend itself to high heels. (Makes for good entertainment, though…)
2. Finery. While the city is a different story, on the coast you can visit even the finest restaurant in shorts, a t-shirt and flip-flops if you want. It's very casual.
3. Warm clothes. On the coast, during the coolest time of year, at most you'll need a long-sleeve shirt and pants. Take caution with what you bring 'just in case.'
4. Jewelry and nice watches. Again—it's very casual, you won't need them. Also, while violent crime is very low in Costa Rica, don't create an unnecessary temptation.
5. Snorkeling gear. Unless you're a real snorkel enthusiast, you can get passable snorkeling gear just about anywhere—and it's included in some tours, such as the catamaran tour.
6. Game boxes, iPads and other entertainment devices. The more time spent playing games and watching movies, the less time experiencing Costa Rica. The kids will have a great time regardless—and it will do them some good to disconnect for a few days.
7. Traveler's Checks. Come' on—traveler's checks went out of style in the 90s. Many places won't even accept them, and it's not easy at the bank, either. Bring some cash, and your ATM card and credit cards, instead.
8. Water purifiers, anti-malarial medication, snake-bite kits, or other such nonsense. The water here is potable AND there's bottled water everywhere. There's no malaria. As for snake bite kits—chances are you won't get bitten by a snake. Might as well bring an Alien Abduction Kit, for all the good it will do you.
9. Travel Guides. Why bring an excessively heavy book with you when you travel? These days, with an iPad or laptop you'll have all the information of the internet at your fingertips. Also—talking to people is the best way to get an honest scoop about local tours, restaurants or places.
10. Stress. Costa Rica's veritable slogan is 'Pura Vida'—ie 'Pure Life'. It's used in innumerable ways: 'How's it going?' 'Pure Life!' 'See you tomorrow?' 'Pure Life!' 'Thanks!' 'Pure Life!' Life here is laid-back, and stress-free. Leave your stress at home! (Or better yet, drive it out to the woods and leave it on the side of the road before you come.)
Remember—Costa Rica is about being barefoot, whether you've got sand in your toes, or are treading travertine marble. Pack light, and live lightly.