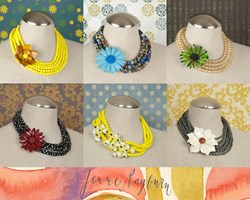 Bright, bold color that complements your eyes and skin tone, brings a glow to your face and a twinkle to your eyes!
Boston, MA (PRWEB) September 30, 2013
Jenne Rayburn's Boston Fashion Week Jewelry Trunk Show event will be held on Friday, October 4th, 2013, from 6:00 PM – 8:00 PM, at the Karenna Maraj Jewelry Collection in Belmont, MA. Attendees will have the opportunity to purchase exquisite hand-made collections from Jenne Rayburn, a studio craft artist who will offer one-of-a-kind jewelry and accessories. Jenne will be highlighting her Vintage Inspired Lucite Jewelry Collection.
Jenne Rayburn is a metalsmith, enamellist, and seasoned designer who creates lovely, original jewelry and textile designs intended to compliment the vision of the woman who wears them. "My wearable pieces are a contemporary distillation of ancient handcrafts and jewelry, the ornament of indigenous peoples, and interpretations of nature," said Rayburn, founder and designer of Jenne Rayburn Handcrafted Jewelry. "I love to blend art and history with form and function, combining traditional and innovative contemporary techniques to achieve dynamic color, texture and pattern effects." According to Rayburn, vintage Lucite is a terrific material for her statement necklaces, because Lucite comes in a variety of colors, including shiny opaque, clear and jewel-like semi-transparent, yet always has a distinctive shine and feel in the hand.
Jenne Rayburn's Vintage Collection includes collar-style statement vintage Lucite necklaces as well as necklaces with bobbles, dangles and pendants. Lucite bead bracelets and earrings complete the look for a coordinated ensemble. "With vintage Lucite jewelry, each bead radiates a lovely internal glow, unlike average plastic beads," said Rayburn.
Lucite makes a wonderful fashion accessory for several reasons according to Rayburn. Foremost, Lucite is lightweight, making dramatic statement necklaces easy to wear. The many color options make Lucite a stand out design material. In keeping with the trend of color blocking, Jenne Rayburn's designs often showcase bold colors and color opposites put together for the widest contrast possible, or add color to a black and white combination. "Many women are afraid of bright colors, because they are worried that the color won't be flattering or will draw too much attention," notes Jenne. "However, wearing a bright color that complements your eye color or skin tone can bring a glow to your face and a sparkle to your eyes resulting in a bold look that will make you look and feel terrific."
Jenne Rayburn Trunk Show
Karenna Maraj Jewelry
Friday, October 4th, 2013, from 6:00 PM – 8:00 PM
95 Trapelo Rd Belmont, MA 02478
617-484-0645
info(at)karennamaraj(dot)com
On Street parking on: Trapelo Rd (Both Sides) and Cushing Ave
We are located right in Cushing Square Belmont between "As Tyme Goes By Antiques" and "Mini Mart" convenience store. Across the street from "Cushing Square Services Station".
Visit Jenne Rayburn's collections at http://www.jennerayburn.com.
Visit Jenne Rayburn on Facebook at http://www.facebook.com/Jenne.Rayburn.
About:
Jenne Rayburn is a Boston-based jewelry/textile artist who also studied interior design and architecture, and her work explores the convergence of architecture, design, technique and identity. Jenne is known for her designs combining vintage textiles, findings and components, with contemporary textile design. A graduate of the University of Washington where she studied metalsmithing and fiber arts, and of the University of Massachusetts, Amherst with a MS in Design, Jenne has been designing jewelry and accessories for over 20 years. Perpetual curiosity and a passion for experimentation resulted in her first jewelry collection made from etched copper and brilliantly colored enamel. Since then, Jenne has created six unique collections of jewelry and fashion accessories that combine careful workmanship with unique materials and designs. It is her hope that the wearers of her pieces will find joy in a delightful artistic statement, and also something that enhances their individuality and confidence. Her work is carried in local galleries and online. Please visit http://www.jennerayburn.com for Jenne Rayburn's online flagship store. For wholesale information, please visit jennerayburn.com/wholesale.com