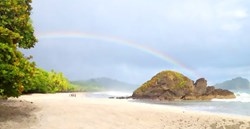 (PRWEB) September 30, 2013
In Costa Rica, the rainy season is generally defined as the time period between May and December—7 months of the year. But this is misleading—in fact, the months of May through August are pleasant, with interspersed showers that cool the temperature down. Even the 'true' rainy season—from September to November—is not like the constant, overcast, drizzly Pacific Northwest, but rather a mix of sun and shine. Contrary to popular belief, traveling in Costa Rica during the rainy season can be one of the enjoyable times of the year to visit.
Here are a few travel tips for visiting Manuel Antonio, Costa Rica, during the fall of 2013:
1. Keep an open mind. The rain doesn't ruin your day—it just changes it. You can do just about anything in the rain which you can do in the sun. (Aside from sunbathe, of course.)
2. Plan your activities and beach time in the mornings. On Costa Rica's central Pacific coast, it's more likely to rain in the afternoon or the evening than in the morning. It's also unusual to have a full day of rain—so a rainy morning will likely mean a sunny afternoon.
3. Don't plan all of your tours and activities ahead of time. It's the rainy season—i.e. fewer tourists. Most often, any activity you'd like to do can be planned a day ahead of time—and sometimes the same day. Don't let the rain be an excuse to cancel a tour last-minute.
4. Bring both light rain gear and sunscreen. It's hot and humid in the rainforest, so bring light gear only—i.e. a poncho, umbrella, or light jacket and hat, with water sandals. Wear synthetic clothing—such as polyester—as opposed to cotton, which soaks up moisture like a sponge. Keep the sunscreen handy—and apply when cloudy, too.
5. Plan on 'wet' activities. There are a number of tours on which you're going to get soaked anyway: surfing, rafting, paddle boarding, scuba diving, and waterfall rappelling, for example. Others, like the ATV tour, can be more fun—i.e. mud instead of dust.
6. Stay at a nice vacation rental. Vacation rental prices go down significantly during the rainy season. Why not travel in comfort, and have a cushy place you can go back to?
7. Check in to local discounts at restaurants. Because there are fewer tourists, restaurants often put out special offers to attract business. Café Milagro, one of Manuel Antonio's best restaurants, had a September 2013 special of 50% off.
8. Plan on a spa afternoon. Why not plan an afternoon of spa treatments for your group? A spa professional can come out to your vacation rental and give different treatments to different people--al gusto. Great for a rainy afternoon.
9. Rent a car. Having a car makes getting around easier—and this is especially true during the rainy season. It also allows for self-guided exploration to the mountains, or coastline further north or south.
10. Bring a good book. Reading on the verandah, surrounded by rain is more pleasant and comfortable than reading in the sun. Just the sound of the rain is therapeutic. Isn't there a book you've been dying to get around to reading?