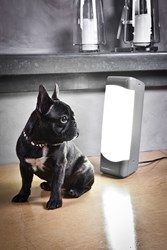 Light treatment can be more effective than prescription drugs without all the side effects.
Portland, OR (PRWEB) September 30, 2013
Pawsitive Lighting, LLC announced today they offering the Sol Box™ at a new low price of $129.99. The company hopes a reduction in price will allow in even more pets to ejoy the benefits of simulated sunlight. This innovative "light box" delivers 10,000 Lux – the same amount of light the sun delivers on a clear day. It is the only light box designed specifically for pets and also the smallest one to deliver this level of light. Pet parents know how much their furry friends like laying in the sun light. The Sol Box allows pets to bask in the sun regardless of the weather. Just like us, all pets love the sun -- they even crave it. And if they are deprived of it due to bad weather, short winter days or long periods stuck indoors, they can become sad, lethargic, anxious & even aggressive.
"I have seen the benefits of using a light box myself," says Max Marvin, Founder and President of Pawsitive Lighting. "I decided to design a pet-friendly version that could be placed on the floor at pet level."
The Sol Box has several features. It is sleek and portable for travel, energy efficient, UV filtered and all natural. Its benefits to pet are numerous. It delivers improved energy & mood, decreased anxiety & aggression, improves sleep and offers relief from Seasonal Alopecia. Benefits can be seen with only a half hour of use daily.
"I wanted to create a holistic approach to treat dogs affected by a lack of sunlight," added Marvin. "Light treatment can be more effective than prescription drugs without all the side effects."
The product now retails for $129.99 delivering a high ring and high profit margin for retailers. Pawsitive Lighting is currently seeking representation and distribution. Currently, the Sol Box is available dealer direct at http://www.pawsitivelighting.com/dealerdirect.