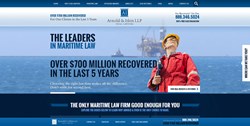 Two trips to Texas and over a thousand hours later, we couldn't be prouder to launch what we consider the best website a law firm has ever had.
Houston, TX (PRWEB) September 30, 2013
Arnold & Itkin is proud to announce the launch of their new offshore injury website. To accomplish this feat, they worked closely with Scorpion Design, their long-term web marketing partner. Scorpion is an attorney marketing and website design company that has established themselves as leaders in the industry. Throughout the years, they have won numerous awards for their design work, helped countless law firms expand their online reach, and made a name for themselves as innovative thinkers and strategists.
Together, Arnold & Itkin and Scorpion worked tirelessly to push the boundaries with this latest design. They truly wanted to set the bar for maritime law websites—putting something on the Internet that had not been done before. Countless man hours went into the design of the website, as well the bleeding-edge technology implemented by Scorpion. The end result? A dynamic, engaging website that does exactly what the two companies set out to do: provide injured offshore workers and their families with the information they need.
"We are very excited about our firm's new website," said Attorney Jason Itkin. "We work hard to provide our clients the best representation possible, and we wanted a website that reflected the quality of service we provide. The team at Scorpion is the best in the business, so it was a no-brainer to work with them."
From the videos included throughout the site, to the comprehensive search function, to the numerous information centers, visitors will have everything they need to know at the tip of their fingertips. The best part is the easy access that visitors will have to the powerhouse lawyers from Arnold & Itkin. Throughout the site, visitors will have the ability to click-to-call, request a free consultation, and more.
"This was one of the biggest projects we have ever been a part of," said Scorpion owner and founder Rustin Kretz. "Over twenty people worked on the creation of this site. Two trips to Texas and over a thousand hours later, we couldn't be prouder to launch what we consider the best website a law firm has ever had. The best part: It couldn't be for a better group of people. I can't call them clients when they are truly our friends in every sense of the word. I'm proud beyond words at what our team had accomplished for them."
Scorpion Design is proud of their latest achievement and looks forward to the many more milestones they will achieve working alongside Arnold & Itkin. To learn more about them, visit http://www.scorpiondesign.com.
Arnold & Itkin LLP is composed of experienced, aggressive trial attorneys. Over the last five years, they have recovered more than $700 million in verdicts and settlements, including a record-setting $117 million verdict for the victim of an ambulance accident. Although they are well-versed in all aspects of personal injury law, they are especially focused on helping injured maritime workers and their families. To learn more about their offshore injury attorneys, do not hesitate to visit them online at http://www.offshoreinjuryfirm.com.