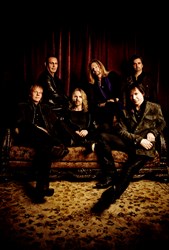 New Brunswick, NJ (PRWEB) September 30, 2013
State Theatre, NJ presents multi-platinum recording band, STYX on Sunday, October 20, 2013 at 8 p.m. The concert will include STYX's biggest hits including "Come Sail Away," "Renegade," "Too Much Time on My Hands," "Grand Illusion," "Lady," "Crystal Ball," "Fooling Yourself (The Angry Young Man)" and many more. Tickets range from $35-85.
Spawned from a suburban Chicago basement in the early '70s, STYX would eventually transform into the virtual arena rock prototype by the late '70s and early '80s, due to a fondness for big rockers and soaring power ballads.
Early on, STYX's music reflected such then-current prog rockers as Emerson, Lake & Palmer, and the Moody Blues, as evidenced by such releases as 1972's self-titled debut, 1973's STYX II, 1974's The Serpent Is Rising, and 1975's Man of Miracles. While the albums (as well as non-stop touring) helped the group build a substantial following locally, STYX failed to break through to the mainstream, until a track originally from their second album, Lady started to get substantial airplay in late '74 on the Chicago radio station WLS-FM. The song was soon issued as a single nationwide, and quickly shot to number six on the singles chart, as STYX II was certified gold. By this time, however, the group had grown disenchanted with their record label and opted to sign on with A&M for their fifth release overall, 1975's Equinox (their former label would issue countless compilations over the years, culled from tracks off their early releases). On the eve of the tour in support of the album, original guitarist John Curulewski abruptly left the band, and was replaced by Tommy Shaw. Shaw proved to be the missing piece of the puzzle for STYX, as most of their subsequent releases throughout the late '70s earned at least platinum certification (1976's Crystal Ball, 1977's The Grand Illusion, 1978's Pieces of Eight, and 1979's Cornerstone), and spawned such hit singles and classic rock radio standards as "Come Sail Away," "Renegade," "Blue Collar Man," and "Fooling Yourself."
The band decided that their first release of the '80s would be a concept album, 1981's Paradise Theater, which was loosely based on the rise and fall of a once-beautiful theater (which was supposedly used as a metaphor for the state of the U.S. at the time—the Iranian hostage situation, the Cold War, Reagan, etc.). Paradise Theater became STYX's biggest hit of their career (selling over three million copies in a three-year period), as they became one of the U.S. top rock acts due to such big hit singles as "Too Much Time on My Hands." It also marked the first time in history that a band released four consecutive triple-platinum albums.
A career-encompassing live album, Caught in the Act, was issued in 1984, before STYX went on hiatus, and the majority of its members pursued solo projects throughout the remainder of the decade. A re-recording of their early hit, "Lady" (titled "Lady '95"), for a greatest hits compilation, finally united Shaw with his former STYX band mates, which led to a full-on reunion tour in 1996. But drummer John Panozzo fell seriously ill at the time (due to a long struggle with alcoholism), which prevented him from joining the proceedings—as he passed away in July of the same year. Although grief-stricken, STYX persevered with new drummer Todd Sucherman taking the place of Panozzo, as the STYX reunion tour became a surprise sold-out success, resulting in the release of a live album/video, 1997's Return to Paradise, while a whole new generation of rock fans were introduced to the grandiose sounds of STYX via a humorous car ad which used the track "Mr. Roboto," as well as songs used in such TV shows as South Park and Freaks & Geeks.
For tickets or more information, call the State Theatre ticket office at 732-246-SHOW (7469), or visit us online at http://www.StateTheatreNJ.org. The State Theatre ticket office, located at 15 Livingston Ave, New Brunswick NJ, is open Monday, Tuesday, Thursday, Friday, 10 a.m. to 6 p.m.; Wednesday 11 a.m. to 7 p.m.; Saturday, 1 p.m. to 5 p.m.; and at least three hours prior to curtain on performance dates, unless otherwise specified. For information on group outings and discounts, call 732-247-7200, ext. 517. Some additional ticket and transaction fees may apply.
State Theatre, a premier nonprofit venue for the performing arts and entertainment. The theater exists to enrich people's lives, contribute to a vital urban environment, and build future audiences by presenting the finest performing artists and entertainers and fostering lifetime appreciation for the performing arts through education. The State Theatre's programs are made possible, in part, by funding from the New Jersey State Council on the Arts/Department of State, a Partner Agency of the National Endowment for the Arts, and contributions from numerous corporations, foundations, and individuals. The Heldrich is the official hotel of the State Theatre. Magic 98.3 is the official radio station of the State Theatre. The Star-Ledger is the official newspaper of the State Theatre. United is the official airline of the State Theatre.
STATE THEATRE
15 Livingston Ave
New Brunswick, NJ 08901
Ticket Office - 732-246-SHOW (7469)
Online - http://www.StateTheatreNJ.org
PHOTOS AND INTERVIEWS FURNISHED UPON REQUEST
Please contact Kelly Blithe at
732-247-7200, ext. 542 or by email at kblithe(at)StateTheatreNJ(dot)org.
Up-to-the-minute information on events and State Theatre news, online at http://www.StateTheatreNJ.org.