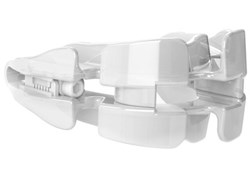 I purchased your stop snoring mouthpiece and it has made a positive difference in my snoring and sleeping patterns. The mouth piece worked perfectly when I boiled it for the fitting and had no problems with the adjustment. V. Hall, Temecula, CA
New York, NY (PRWEB) September 30, 2013
The latest customer reviews of the FDA cleared VitalSleep anti-snoring mouthpiece are demonstrating continued positive success. This mandibular advancement device gently moves the lower jaw forward to help open the airway of snorers and stop snoring at night.
R. Lorenzo of North Palm Beach, FL shares with us how VitalSleep has improved his sleep and how much better it performs than other snoring devices he has tried in the past.
"Honestly, this is the best and most comfortable device I've tried and I've tried them all, including a $700 dentist fitted device. It also happens to be the most affordable and easiest to fit. Simple and effective...great concept. "
Luckily, snorer B. Barbero of Las Vegas, NV purchased VitalSleep and shared the following:
"I've been a world class snorer for years and over those years, I have just gotten louder. Three years ago my wife moved into the guest room and vacations are always a chore to arrange because she can't sleep in the same room with me.
I've tried surgery and a number of mouthpieces, gargles, and spray remedies - nothing worked. Then I tried Vital Sleep and it worked from the very first night
My wife says that it hasn't completely eliminated my snoring, but it has reduced the frequency and volume to where it was 35 years ago when we got married and I weighed 30 pounds less. After three nights of checking up on me to make sure that I wasn't playing some kind of cruel trick, she moved back into the bedroom. Many thanks."
VitalSleep is a flexible, comfortable, customizable (boil-and-bite) snoring mouth guard that a person wears to sleep that gently adjusts and holds the lower jaw forward. Opening the upper airway allows for unrestricted breathing throughout the night, so a person can sleep soundly, deeply, and without interruption. It's just that simple!
For information regarding VitalSleep Reviews please visit: http://www.vitalsleep.com./