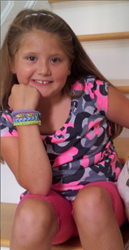 'Everyone deserves a little rainbow in their heart.' - Mia Leroux
Barrington RI (PRWEB) September 30, 2013
Like other children across the country, eight-year-old Mia LeRoux is enjoying the Rainbow Loom craze – making multi-colored bracelets out of rubber bands. But it's not making the colorful jewelry that pleases her most; it's giving them away.
During a recent visit to her grandfather's nursing home, he remarked on the bracelets Mia was wearing. Impulsively, Mia took them off, gave two to her grandfather and then gave the rest to other residents. The reception to her generosity was overwhelming and it wasn't lost on Mia.
She told her parents that she wanted to make more bracelets, but not for herself. "I don't really need to wear a lot of them, I would rather make them for other kids or give other kids stuff to make them," said Mia.
And Looms for Love was born.
Nayatt School in Barrington is one of several local schools working with Looms for Love to collect 500 bracelets by November 1, which will be donated at area nursing homes.
Looms for Love volunteers will create or collect rainbow loom bracelets and handwritten notes that are then shared with hospitalized children or nursing home residents. The organization also raises funds to purchase kits and craft supplies for children in hospitals.
"Everyone deserves a little rainbow in their heart," said Mia.
If you want to help Looms for Love help local children or even start a chapter in your area, visit the Looms for Love website at http://www.loomsforlove.org.