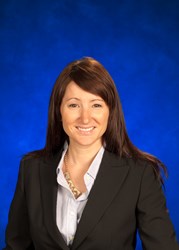 Hartford, CT (PRWEB) September 30, 2013
Hartford personal injury and employment law firm Cicchiello & Cicchiello, LLP has added a new associate attorney, Amanda M. DeMatteis, to its legal team. Ms. DeMatteis serves as an important addition to the law firm's team of talented Hartford personal injury and employment law attorneys, who leverage decades of legal experience to help their clients protect their best interests.
Attorney DeMatteis, who is licensed to practice law in the State of Connecticut, has devoted her law career to the legal practice areas of personal injury, workers' compensation, employment law and civil rights. The lawyer is a member of a number of professional organizations, which include the Connecticut Trial Lawyers Association, the Connecticut Bar Association, the Connecticut Employment Lawyers Association, the National Employment Lawyers Association and the American Bar Association.
Ms. DeMatteis obtained her Juris Doctor in 2012 from Quinnipiac University School of Law, where she was honored with a Service to the Law School Award. She proved to be a highly involved law student, as she held the positions of Senator for the Student Bar Association, Founder and President of the Labor and Employment Law Society, and Member and Executive Board Member of the Mock Trial Society. Before Attorney DeMatteis attended law school, she obtained her bachelor's degree in political science at Sacred Heart University, and she also took courses at the graduate level on applied politics and campaign management at George Washington University. At the time of her graduate studies, Ms. DeMatteis had the privilege of working as a Congressional Intern for Congresswoman Rosa L. DeLauro (D-CT 3rd District).
Cicchiello & Cicchiello's lawyers have nearly 40 years of combined legal experience. One of the firm's team members has been honored through inclusion in the Super Lawyers® Rising Stars™ list, as well as through inclusion in the National Trial Lawyers Association's Top 40 Under 40. The firm is able to provide cutting-edge legal representation for various personal injury and employment law matters, such as claims and lawsuits that have to do with auto accidents, construction accidents, medical malpractice, employment discrimination, sexual harassment, wrongful termination and many other areas. Cicchiello & Cicchiello's legal professionals are fully dedicated to helping their clients obtain positive outcomes in their cases.
The law firm offers free consultations. This allows individuals to obtain initial legal advice from a qualified Hartford personal injury or employment lawyer at absolutely no cost. Additional information about Cicchiello & Cicchiello, LLP can be found at http://www.cicchiellolaw.com.