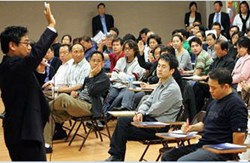 I am happy when my students become top sellers. They study and work hard to earn it. They deserve it.
Los Angeles, CA (PRWEB) September 30, 2013
At 2013 Asian Business Expo, Daniel Kim will give a seminar about successful tips for Amazon and eBay sellers with many instances.
Daniel Kim is the project manager who developed PhiConnect eBay and Amazon web management software. It has been more than five years that Daniel Kim started to teach business owners who wanted to start an eBay and Amazon business. He helped hundreds of eBay and Amazon new sellers and made them succeed.
The eBay class was offered as he teamed up with Korea Daily, the largest Korean newspaper firms in the U.S. Classes are taught once a week in Los Angeles.
Daniel Kim has sold products more than 14 years and he had also difficulty to reduce men hours and labor costs for listing, order processing, inventory control, shipping label printing and other fulfillment processes. That is why he and his team members started to develop new all-in-one software called PhiConnect which can help many medium and large sellers on eBay and Amazon.
PhiConnect.com is an e-commerce platforms and multi-channel management web service. It has new enhancements of shipping features allowing online retailers to print UPS and USPS labels in batch without UPS WorldShip and Endicia Dazzle. PhiConnect is an all-in-one web based solution including multi-channel order processing, inventory control, shipping management, and own storefront.
Daniel Kim added that "I am happy when my students become top sellers. They study and work hard to earn it. They deserve it."
He will reveal many hidden tips to become successful online sellers from his experience. His seminar is free admission and registration is required.
For registration, go to https://danielkim.eventbrite.com/ or e-mail info(at)PhiConnect(dot)com.
About PhiConnect:
PhiConnect was developed by a Yahoo! Store user, eBay Titanium PowerSeller and Amazon seller, with 12 years experience. PhiConnect has helped many multi-million online sellers of multi-channels to reduce the time and labor of their inventory control, order processing and listing management. PhiConnect also offers an own storefront and shipping modules so sellers do not need switch between different software.
PhiConnect all-in-one platform can save time and money because online retailers will not need to subscribe to storefront, listing management, inventory control, order processing, and shipping module services separately. PhiConnect's platform gives online retailers the ability to distribute their product to multiple marketplaces including eBay, Amazon, Buy.com, Google Product Search, Shopping.com, PriceGrabber, and Shopzilla. Additionally, PhiConnect's automatic SEO feature can generate meta keywords, meta description, and URL rewrite automatically for search optimization for Google and Yahoo.
For further information, please visit http://www.PhiConnect.com.