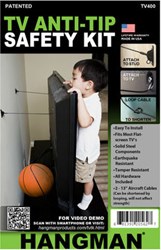 "I urge parents to anchor their TVs, furniture and appliances and protect their children. It takes just a few minutes to do and can save lives." --Consumer Product Safety Commission Chairman Inez Tenenbaum
Los Angeles, CA (PRWEB) September 30, 2013
TV and furniture tip-overs have been killing a child every two weeks for the last decade, but in 2010 and 2011, those deaths climbed to 31, then jumped to 41. Most of these accidents could be prevented if parents follow simple safety steps.
The increase in deaths is related, at least in part, to the phenomenon of upgrading televisions. According to the Consumer Product Safety Commission (CPSC), reports show that as families purchase higher-tech televisions, they move the older, heavier TVs into their children's rooms, often onto dressers or other makeshift stands without anchors. Children then climb up the furniture to get the remote, or retrieve a toy, pulling the TV and furniture onto them, often with fatal results.
The CPSC article states, "Unanchored televisions placed on dressers, bureaus and tables not intended to be used as a TV stand have been associated with many tip-over incidents involving both the TV and the furniture." In fact, 40% of fatalities occurred in the bedroom.
Anchors for TVs and furniture are the most effective way to absolutely ensure that your child will never encounter such an accident. "We know that low-cost anchoring devices are effective in preventing tip-over incidents," said CPSC Chairman Inez Tenenbaum. "I urge parents to anchor their TVs, furniture and appliances and protect their children. It takes just a few minutes to do and can save lives."
Hangman Products offers a simple to install, steel component TV Anti-Tip Kit, designed for all flat panel TVs, both the thicker LCDs and newer, thinner LEDs. For older table top models, you will need to instead secure the furniture with a Furniture Anti-Tip Kit, and follow the guidelines below from the CPSC for placement. Both are available on their website and in stores, with installation videos available.
The CPSC recommends these safety measures in homes where children are present or visit:
*Anchor furniture to the wall or the floor.
*Place TVs on sturdy, low bases, or anchor the furniture and the TV on top the base, and push the TV as far back on the furniture as possible.
*Keep remote controls, toys, and other items that might attract children off of TV stands or furniture.
*Keep TV and/or cable cords out of reach of children.
*Make sure freestanding kitchen ranges and stoves are installed with anti-tip brackets.
*Supervise children in rooms where these safety tips have not been followed.
More information on TV and furniture tip-overs can be found on the CPSC site.
About Hangman Products: Hangman Products creates hardware and safety solutions for everyday needs. The multiple-patented Hangman Systems are carefully engineered to guarantee a safe and sturdy installation. Hangman's unique line of products ranges from Hanging, Framing, TV/Stereo Mounts and Safety to Garage/Slat Wall and Organization. Hangman's ever-expanding line of products can handle even the most difficult projects.