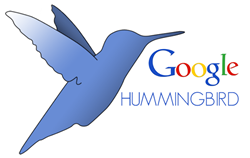 'Hummingbird is paying more attention to each word in a query, ensuring that the whole query – the whole sentence or conversation or meaning – is taken into account.' - Danny Sullivan
Atlanta, GA (PRWEB) September 30, 2013
According to Search Engine Land, Google announced a brand new algorithm named "Hummingbird", due to its "precise and fast" nature. Unlike previous algorithm updates such as Penguin and Panda, Hummingbird is a brand new algorithm that integrates new and existing pieces. Although it was only recently announced, Google claims that this algorithm has been running for nearly a month. This overhaul signifies the largest algorithm change since Google's "Caffeine" update in 2009.
This new algorithm seems to be primarily focused on "Conversational Search." This means Google will now be even better at understanding queries performed in conversational terms, such as, "Where is the closest place to buy a cell phone from my house?" Before, Google would pick out the key terms from the query, like "Buy" and "cellphone", and then return results based on those two words. Now, Google sees the whole question and can return more personalized results. With the popularity of such voice to text technology like Siri, it was only a matter of time before Google started capitalizing on this.
This new change should make search results even more personal and localized. By tracking previous searches and current or popular locations, Google will now be able to tailor its results directly to you.
Here at Eclipse Web Media, we track and analyze all of Google's latest updates and announcements to stay ahead of the curve. This allows us to provide the best services and consulting we can to our customers.
Eclipse Web Media is an interactive web design firm based in Duluth, Georgia, which is in the metropolitan Atlanta area. It was founded in 2007 and since then has been committed to bringing a great blend of services catered to individual client's needs. Services offered at Eclipse Web Media include search engine optimization, web design, development, and video production.