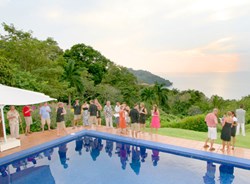 (PRWEB) September 30, 2013
Let's face it: Trying to find a family destination to keep both the kids and the parents happy is a challenge. These days families are divided by so many interests it's tough to keep everyone together in the same space for long. Good parents not only want their vacation to be enjoyable for all—but also an enriching experience, as well.
Which is why Costa Rica is the perfect country, and Manuel Antonio the perfect coastal destination. Here are the reasons why:
1. There are activities aplenty for everyone. Manuel Antonio is one of the only destinations in Costa Rica where you can do just about any tour or activity you were hoping to do—from rafting, to canopy tours to whale watching.
2. Beaches. Beaches are one of the things that everyone loves—whether you're a toddler playing in the sand, or a grandfather drinking Imperial beneath a parasol. Manuel Antonio beach was rated the '#1 Beach in Central America', according to the 2013 Trip Advisor People's Choice awards.
3. Monkeys. Yep—Manuel Antonio has tons of them. Everyone loves monkeys, especially kids.
4. Nature. Manuel Antonio is a jewel located in the rainforest. It is one of the world's most important ecologies, and the most diverse on the planet. Not only is it fun to look at—but also to learn about.
5. Manuel Antonio National Park. In 2011, Forbes Magazine listed Manuel Antonio National Park as one of the worlds 12 'Most Beautiful National Parks'. Not only is it a gorgeous national park—but one with three great beaches, and tons of wildlife.
6. Restaurants. Manuel Antonio has a great selection of restaurants—most of which not only have great, local seafood, but also a kids menu. (In case they're not into coconut-crusted mahi mahi…)
7. Vacation Rentals. Manuel Antonio is very much a 'boutique' destination—ie not many big hotels or developments. There are, however, great vacation rental homes which are ideal for families, both big and small. With varying ages, it's easier to have all of the facilities of home at your disposal. The VP Private Resort, for example, which sleeps up to 22, is the perfect option for large families—or families traveling together.
8. Culture. Unlike highly developed areas and mega-resorts, Manuel Antonio is more genuinely 'Costa Rica'. The people are warm and friendly, and the service is great. A short drive takes you outside of town, to hamlets and villages virtually untouched by foreigners.
9. Shopping. Manuel Antonio has a variety of shopping, from colorful handicrafts, to finer things—such as handbags, clothing and art.
10. Families are brought together by shared experiences. This is especially true when the experience is significant and new—such as a family trip to Manuel Antonio, Costa Rica.