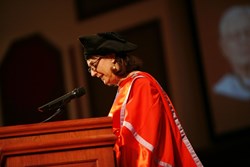 Minneapolis, MN (PRWEB) September 30, 2013
Mimi Haddad, president of Christians for Biblical Equality (CBE), was interviewed by Margot Starbuck for Red Letter Christian's "The Red Carpet" interview series.
Haddad was invited to join "The Red Carpet" for an interview because her work has been stimulating conversation and thought surrounding the biblical view of gender justice. In this interview, Haddad provides her own story and motivation behind the work she so passionately pursues.
"The Red Carpet" interview series is meant to highlight 21st century Christian practitioners and leaders who are living out the teachings of Jesus Christ in inspiring ways. Haddad said, "I was honored to be asked to interview for this series. I believe that the biblical precedent for Christian living based on giftedness rather than gender is crucial if we are to live in the way that Christ has called us to live."
The interview can be found here.
In its effort to advance a biblical foundation for gift-based rather than gender-based service, CBE sponsors annual conferences, facilitates local chapters, hosts an online book service, and publishes two award-winning journals. For more information, visit http://www.cbeinternational.org.