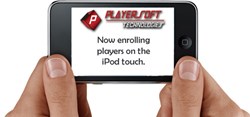 Understanding our clients needs is why our products and services work.
San Diego, CA (PRWEB) September 30, 2013
Playersoft Technologies was recognized with an Industry Excellence Award from the prestigious Gaming and Leisure Magazine's CIO Roundtable during the recent G2E2013 conference in Las Vegas. "The 'Deep Understanding of Customer' award represents an acknowledgement of Playersoft's grasp of our client's needs," says Tony de Leon, Playersoft President. "Our understanding of client's desires has been developed through the years of our own collective and combined experiences in the gaming industry."
The CIO Roundtable is comprised of C-level executives from the Gaming and Hospitality industry and the award represents a distinguished level of recognition from a respected and knowledgeable group. This is not the first time the G&L CIO Roundtable has recognized Playersoft for industry achievement. Playersoft's Mobile Enrollment won its prestigious Platinum Award in 2012, an honor given to the best overall product each year. "To have a deep understanding of our client's needs allows us to better develop products which solve their day to day challenges," says de Leon. "Our understanding manifests itself in the intuitive products we develop which allow easy implementation for operators at every level; from the customer service of a front line employee to the casino staff evaluating a customer's gaming potential."
Playersoft's suite of interactive products include Mobile Enrollment, Group Tracker, TouchPoint Kiosk and Host Player Management, all which work together and can be seamlessly integrated into any casino operations system currently on the market. "These are the products which show our understanding of the industry," says de Leon. "We believe our clients are coming back to us specifically because of our awareness and support of their needs. The platforms we develop make their jobs easier, their properties more profitable and help keep their clients happy."
Together, Playersoft's suite of products allow for more thorough casino operations at every level. The principles of Playersoft all come from casino operations backgrounds for both Las Vegas resorts and Native American gaming operations and each member understands the importance of making the casino player's visit convenient and hassle free regardless of a property's size. "Our goal is simple; to help operator's create a better guest experience. We use mobile technology and design digital solutions specifically to do that by streamlining operations," said de Leon. "It's gratifying when an industry leader like Gaming & Leisure recognizes the core of our efforts."
Playersoft Technologies focus is to help casino operators improve the players gaming experience which creates a positive effect on player retention and profitability.