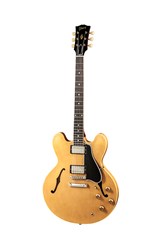 Los Angeles, CA (PRWEB) September 30, 2013
After years in development, Gibson Memphis is introducing the Rusty Anderson Signature ES-33—a customized version of the 1959 ES-335 Anderson bought in 2002, and performs with in the Paul McCartney band.
"It's my version of the original 1959 ES-335," said Rusty. "The main reason I chose this guitar to customize is because it maintains its tone at any level, which is important when playing large stadiums to hundreds of thousands of fans. You want them to hear every note—and they can with this guitar."
Rusty also appreciates that the center block is made of the lightest wood available. "That was a big deal to me," he explained. "It sounds wonderful because the guitar resonates more. It's also not as heavy to hold, which is important because we play four-hour gigs."
In addition to working as Paul McCartney's touring lead guitarist since 2001, Anderson has been a first-call session player for artists like Elton John, Joe Cocker, The Bangles, Neil Diamond, the Wallflowers, Sinéad O'Connor, Ricky Martin, Willie Nelson and dozens of others.
To launch this iconic guitar, Gibson Brands is hosting a private charity party in Beverly Hills on Thursday, October 4 to benefit the National Resources Defense Council (nrdc.org, whose work protects the environment and wildlife). Anderson, with his band "Afternoon," will be performing new and original songs for an exclusive group of invited guests, celebrities and fans.
Background: About the Rusty Anderson Signature ES-335
Gibson Memphis patterned the body and neck on the original vintage 1959 ES-335. The Rusty Anderson ES-335's body is made from laminated maple with a solid, lightweight maple center block, spruce braces, and cedar rim liners. The neck is carved from solid quarter-sawn mahogany to a superbly comfortable rounded '59 profile. The hand-selected dark rosewood fingerboard has dot position markers and vintage-correct binding, topped with a period-correct nylon nut. Its nitrocellulose Vintage Natural VOS finish, with aniline dye grain filler on the neck, recreates the look, feel, and sound of a prized vintage ES-335 built nearly 55 years ago.
"This helps the guitar maintain its tone," said Rusty. "Furthermore Jim Lillard, the resident electronics guru in Memphis, balanced the pickups to be hot enough to have some serious oomph, yet they also articulate extremely well."
The Rusty Anderson ES-335's two specially designed Custom Bucker humbucking pickups have been recreated from painstaking study of prized vintage PAF humbuckers. Made with Alnico II and Alnico V magnets, they also incorporate slightly mismatched, unspotted coils that are scatter-wound with 42 AWG wire. Matched CTS™ potentiometers with "Bumblebee" tone caps ensure an authentically vintage signal path all the way to the output.
Single-ring Kluson™ tuners, a nylon nut, original "no wire" ABR-1 Bridge, and a lightweight aluminum stop-bar tailpiece with old-style long-anchor studs all contribute to superb resonance and sustain, as well as preserve the original's traditional looks. All hardware is nickel-plated, and gently aged using Gibson's exclusive VOS process. Finishing touches include a period-correct '59 pickguard, truss rod and cover, and historically accurate binding sizes and colors.
Anderson also points out that like the original 1959 guitar, "The anchor points at the bridge are at their full depth, and the unobstructed truss rod is really good because it resonates better."
The neck is solid but not too big. This guitar has great tone, especially at the low end—and that's the most difficult element to get right.
Every Rusty Anderson ES-335 comes protected in a tan hard-shell case with plush charcoal lining, includes a Gibson Memphis Certificate of Authenticity, and is backed by Gibson's Limited Lifetime Warranty and 24/7/365 customer service.
About Gibson Brands (gibson.com)
Gibson Brands, one the fastest-growing companies in the music and sound industries, was founded in 1894 and is headquartered in Nashville, TN. Gibson Brands is a global leader in musical instruments, and consumer and professional audio, and is dedicated to bringing the finest experiences by offering exceptional products with world-recognized brands. Gibson has a portfolio of over 100 well-recognized brand names starting with the number one guitar brand, Gibson. Other brands include Epiphone, Dobro, Valley Arts, Kramer, Steinberger, Tobias, Slingerland, Maestro, Baldwin, Hamilton, Chickering and Wurlitzer. Audio brands include KRK Systems, TASCAM, Cerwin-Vega, Stanton, Onkyo, Integra, TEAC, TASCAM Professional Software, and Esoteric. All Gibson Brands are dedicated to innovation, prestige, and improving the quality of life of our customers.