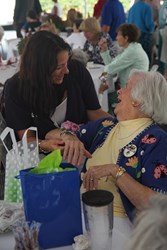 I really believe Osprey is wonderful.
Amelia Island, FL (PRWEB) September 30, 2013
Osprey Village, Amelia Island's premier retirement community, commemorated its 15th anniversary on Saturday, September 28, 2013, with a blow out afternoon bash.
The celebration had something for all ages. Younger children lined up for their turn in the bounce house or to get their face painted, while adults appreciated the antique car show. Everyone enjoyed the live music, caricaturist, and food.
Guests included community members, staff, and the senior living community's members, among which were founding members - members who were the first to move into Osprey Village and continue living here today.
Molly Hendrickson, one of the founding members, was reflective upon the 15th anniversary.
"There were four or five of us in the beginning," Hendrickson recalls. She moved in shortly after Osprey Village opened its doors in 1998. Despite her reluctance to move to a retirement community, she notes, "I have never regretted my decision."
"I have made very dear friends here," Hendrickson adds. This is no surprise since she participates in every activity that she possibly can - including the workout classes. She loves the daily activities because "you meet everybody."
"Osprey Village's goal is to help you or your loved one live a longer, healthier, and happier life. We've tailored everything we do to support that mission," says Lifestyle Advisor Anne Jones. Osprey Village's wellness programs have won Assisted Living Federation of America's Best of the Best Awards for WAVES program in 2010, C.L.I.M.B. in 2011, and Purpose-Based Wellness in 2012.
Hendrickson originally bought one the cottages at the senior living community. However, growing eyesight issues led her to be one of the first to buy a villa. "She paid her deposit before the ground was broken," notes Director of Member Services Mary Hamburg.
"I really believe Osprey is wonderful," continues Hendrickson. Around Christmas, she was in the hospital and anxious to leave. Upon learning that she lived at Osprey Village, her doctors released her. "They knew that Osprey had the facilities to care for me," she remembers.
Osprey Village offers independent, assisted, and Alzheimer's care living options. All of which are housed within the gated community. For those able to live without assistance, Independent Living is a great choice. Members can live in villas or cottages and enjoy the numerous amenities of Osprey Village's Clubhouse and Wellness Center, along with a membership to the Amelia Island Club. In Assisted Living, our staff provides personalized care based on individual needs. Alzheimer's Care caters to and serves members with dignity and respect.
Osprey Village partners with Genesis Rehabilitation Services to provide on-site physical therapy, occupational therapy, and speech-language therapy.
"It's great because I didn't have to leave," Hendrickson praises. She feels at home in the Osprey Village community. "I have recommended it to so many people."
Osprey Village looks forward to their next 15 years award winning service.
About Osprey Village
Osprey Village is an all-inclusive, luxury retirement community located on Amelia Island, Fla. The community's care-free lifestyle helps members live longer, healthier and happier lives by offering an array of amenities including maintenance-free living, daily fine dining, weekly housekeeping, a nationally recognized wellness program and on-site health services. The community features a variety of floor plans including single-family cottage homes and condominium-style villas. Assisted-living and Alzheimer's-care rooms are also available for those who need to make a transition from independent living. More information about Osprey Village is located at http://www.Osprey-Village.com.