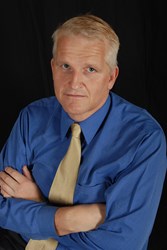 Cyber attacks are not powerful enough to create significant damage - the true power is in the public sentiment and distrust these attacks can catalyze.
Dallas, TX (PRWEB) September 30, 2013
Cyberwarfare has lacked a theory for how to fight a decisive cyberwar based on the unique tenets of the digital era. Drs. Jan Kallberg, Bhavani Thuraisingham, and Erik Lakomaa presented a new theory in a research paper titled "Societal Cyberwar Theory Applied The Disruptive Power of State Actor Aggression for Public Sector Information Security" during the 2013 IEEE European Intelligence and Security Informatics Conference (EISIC 2013).
"The theory is a workable tool to be able to successfully strike another nation," says Dr. Kallberg and continues "because it identifies weaknesses in the targeted society that will trigger social unrest and destabilize the targeted society."
The modern welfare state faces significant challenges to be able to sustain a systematic cyber conflict that pursues the institutional destabilization of the targeted state. Cyber defense in these advanced democracies are limited, unstructured, and focused on anecdotal cyber interchanges of marginal geopolitical value. The factual reach of government activities once a conflict is initiated is likely to be miniscule. Therefore the information security activities, and assessments leading to cyberdefense efforts, have to be strategically pre-event coordinated within the state. This coordination should be following a framework that ensures institutional stability, public trust, and limit challenges to the state. The paper presents a case to use societal cyberwar theory to create a national cyber defense in an event of facing a massive state actor initiated automated systematic cyber attacks to prevent a societal system shock. Societal cyberwar theory utilizes a theoretical framework created by political scientist Dwight Waldo for government stability, turns it upside down, and uses the theory to identify cyber targets and aim points. According to societal cyberwar theory the aim points to be targeted by an automated premeditated systematic attack that will cripple the targeted nation is the five pillars that upholds the state – legitimacy, authority, knowledge, control, and confidence. The failure to protect the institutional stability could undermine the state's ability to avoid submission to foreign power.
About Jan Kellberg, PhD
Jan Kallberg's academic website can be found at: http://www.cyberdefense.com.
Google Scholar: http://scholar.google.com/citations?user=JA1gZMgAAAAJ.
List of cyber publication: http://www.cyberdefense.com/thinking/publications.htm.
Center for Advanced Cyber Studies is a research group lead by Dr. Jan Kallberg. The center is a platform for collaboration and joint project in cyber defense and cyber operations studies. Dr. Kallberg can be reached by email jkallberg(at)cyberdefense(dot)com.
Dr. Kallberg, founder of Center for Advanced Cyber Studies, is open to be interviewed in regard to cyber security, offensive cyber operations, cyber deterrence, cyber superiority, threats and opportunities of a militarized cyber space. LinkedIn profile: http://www.linkedin.com/in/kallberg.