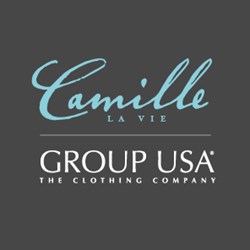 Comparable to prom, a girl's homecoming party marks another memorable event of her high school life with an emphasis on fashion.
Secaucus, NJ (PRWEB) September 30, 2013
With the Homecoming 2013 season in full effect, Camille La Vie & Group USA have launched a capsule collection of versatile special occasion dresses with a focus on the highly popular look seen both on and off the runways: The Lace Look. Although a current hot trend, the lace look remains a classically timeless style best known for being equal parts sophisticated and elegant, as well as playful and seemingly coquettish – favorable fashion traits when shopping for the perfect homecoming dress. To kick off the new school year in decadent style, girls can embark on a style hunt for the ideal look at Camille La Vie & Group USA, which houses a carefully curated range of lace dresses in varying shapes, lengths and silhouettes that cater to every girl's personal style.
If she's shopping for a playfully pretty style with a more girl aesthetic, this retailer carries a range of sweet and sassy dresses, such as "The Ballerina Look," which can range from enchanting lace appliques along the dress, flouncy skirts with a hint of whimsy and two-tone lace dresses with fluttery, peek-a-boo hemlines. Kerry Washington, for instance, wore a divinely demure gown at the 2013 Emmy's, which includes subtle, feminine doses of appliques from her bodice down to the train. For girls looking to step into their party with a style that reflects a more classy appeal, there's "The Old Hollywood Look," that girls can shop for, which include luxe, vintage-inspired A-line skirts with lace illusion necklines and satin ribbon ties around the waist. In keeping with this classic, retro look, celebrities like Sarah Hyland, Claire Danes and Laura Dern stepped onto the red carpet of the 2013 Emmys in ultra-luxurious gowns fit for a timeless starlet. And for the modern girl with a dose of vampish edge, there are lace dresses with mimic "The Fierce Diva Look," with a tapered, body-skimming shape in various cuts like the one-shoulder lace cocktail dress with lace bodice and nude underlay, the metallic taffeta dress with lace cap-sleeved details along the neckline and back and even lace halter dresses that combined with intricate beadwork. Sofia Vergara was a knockout who made her appearance in true diva form at the Emmy's in a head-to-toe red mermaid dress with rich lace overlays tapering her statuesque silhouette.
When shopping for the latest looks for social occasion events, like Homecoming, Camille La Vie & Group USA keeps on-trend fashion in mind from runway to the red carpet for the girl who loves high fashion.
"Comparable to prom, a girl's homecoming party marks another memorable event of her high school life with an emphasis on fashion. Finding the perfect dress will make her night even more special, so we ensure that our customers have a wide variety of styles and trendy looks like that of the widely popular lace look," said Camille La Vie & Group USA President Denise Viotti.
About Camille La Vie & Group USA
Camille La Vie & Group USA is a true fashionista's shopping hot spot for prom dresses, homecoming dresses, wedding dresses, social separates, day into evening dress styles, bridal, formal accessories, jewelry and shoes. They offer one of the most extensive and stylish collections of special occasion dresses that can be found under one fabulous roof! Since its inception in 1985, the company's motto, "to provide customers with the latest dress fashions at an affordable price," has made them a leading retailer in virtually all categories. To date, Camille La Vie & Group USA has expanded to a total of 24 stores nationwide.
In select Camille La Vie & Group USA stores, customers will discover a collection of bridal apparel including wedding dresses, bridesmaid dresses, flower girl dresses, mother of the bride dresses and guest of wedding dresses. Camille La Vie & Group USA also provides bridal alteration and consulting services. So whether your style is classic and elegant or modern and chic, Camille La Vie & Group USA will outfit stylish women of all types without breaking their bank!
If you're in a committed search to score a certain dress style, Camille La Vie & Group USA is your one-stop source for all things pretty – from on-trend high to low dresses, mirror stone and chunky beaded bodices, bright and bold hues, florals and animal prints, handkerchief, godet and trumpet hemlines, subtle detailing or all over sequins, one shoulder, crisscross back or cut out silhouettes to cascading ruffles and fun, frilly poof a-line skirts in tulle, Camille La Vie & Group USA's fashion styles are seemingly endless! And the options do not just stop there. Follow Camille La Vie & Group USA on Facebook for all the latest updates and fashion alerts at facebook.com/camillelavie.groupusa.