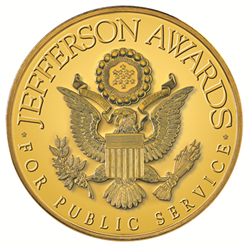 Wilmington, Delaware (PRWEB) September 30, 2013
The Jefferson Awards for Public Service (Jefferson Awards) announced today that it will be changing the name of one of its youth-community service program formerly known as Youth Service Challenge to: LEAD 360 Challenge. This program will build on the success of the Youth Service Challenge which was founded by the Jefferson Awards and the Network for Social Responsibility's (NSR) WaysToHelp.org in 2010 - signing on more than 170 mayors and engaging over one and a half million young people since it was founded.
The Jefferson Awards thanks Dave Boyer and WaysToHelp for the contributions to the Youth Service Challenge program. Jefferson Awards co-founder Sam Beard stated "Mr. Boyer brought the idea and program design for Youth Service Challenge to the Jefferson Awards in 2009 along with his passion for motivating teams to serve their communities through public service, and his managerial and organizational expertise. The Youth Service Challenge program became a huge success due to the hard work from both the Jefferson Awards and WaysToHelp - we owe Dave and his team huge thanks for helping us launch this project."
Dave Boyer said: "Working with Sam Beard and the Jefferson Awards was such a great learning experience for our team. We had set out to create a national program on our own and we felt lucky to be able to partner with the Jefferson Awards because of their historical success building national programs. The assets they brought to the table and the results we achieved by working with them were simply unbelievable. We wish them much success with the LEAD 360 Challenge."
About WaysToHelp:
WaysToHelp was founded in July, 2009 by David Boyer, a former executive who left corporate America to fill his dream of motivating teams to volunteer, and the small group of people from eBay, J.P. Morgan Chase, McKinsey and Company, Goldman Sachs, Morgan Stanley, the Posse Foundation, Ronald McDonald Charities and Stanford University. It exists to engage, inspire and enable high school students to make a positive difference in the world. It does this by making it easy for them to learn about, and take action on, sixteen of today's most pressing social issues as well as providing teens and schools with toolkits to improve in-school food and volunteer drives. For more information and to get involved visit http://www.WaysToHelp.org.
About the Jefferson Awards:
The Jefferson Awards was founded 1972 by Jacqueline Kennedy Onassis, U.S. Senator Robert Taft, Jr. and Sam Beard as the "Nobel Prize for public service." Named for one of America's most influential Founding Fathers and the principal author of the Declaration of Independence, the Jefferson Awards' central tenet is that each and every citizen shares a responsibility to work towards the betterment of their communities through economic participation, public service, volunteerism and other such efforts to improve life for all. Today the mission of the Jefferson Awards is to "collaboratively engage the nation and public service and volunteering by providing training, inspiring enabling action, measuring impact and celebrating the achievements of exceptional individuals." Through the Youth Service Challenge, more than 170 mayors have signed on to shine a positive spotlight on student-lead service projects. In year three, more than 800,000 young Americans participated in over 3,700 projects.