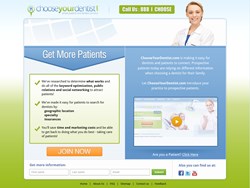 We don't believe that today's busy families should have to spend a lot of their valuable time looking for a dentist in Palm Springs, California.
Palm Springs, CA (PRWEB) September 30, 2013
Finding a dentist in Palm Springs, California can be challenging for any busy family. ChooseYourDentist.com, the premier online website which helps dentists and patients connect, has expanded its database and is listing out five easy steps to make this process easier.
ChooseYourDentist.com announces the expansion of its rapidly-growing database of California dental professionals to now include Palm Springs. In addition to finding dentists in Los Angeles, San Diego, Oakland and Encino, site users can now turn to ChooseYourDentist.com any time they need a dentist in Palm Springs CA, an orthodontist in Palm Springs, a family dentist, or any other dentist.
The site can help locate potential dental partners whether users are new to Palm Springs, are looking for a new family dentist, or have special dental requirements. Dental patients don't have to look in local newspapers, postcard decks or coupon books any longer. In addition, ChooseYourDentist.com listed out the five simple steps to finding a dentist in Palm Springs.
The first step is to search by geography or dental specialty. At ChooseYourDentist.com, visitors can search for California dentists, look for an endodontist in Palm Springs, or find a cosmetic dentist in Rancho Mirage. Once a list of potential dentists has been found, the user can view practice profiles and compare dental practices. The unique microsite formatting allows visitors to view practice information, before and after dental photos, dental specialties, insurances accepted, credit lines accepted, and patient testimonials. Some practices may also include a short video to help visitors get to know more about their people.
After visitors have found a Palm Springs orthodontist or a Palm Springs dentist they think will meet their needs, they can use ChooseYourDentist.com to request a telephone call or set up an appointment. Microsites will also list any special offers to help stretch family's dental health budgets. The final step is to review the site's wide variety of information on dental health topics such as Invisalign braces or CEREC dentistry to learn more about oral health.
"We don't believe that today's busy families should have to spend a lot of their valuable time looking for a dentist in Palm Springs, California," commented founder Feridoon Amini. "All they have to do is visit ChooseYourDentist.com, enter a few basic pieces of information to register, choose their search factors, and read about practices that match their specific criteria. We've even made it convenient to set up an appointment or request a phone call directly from our site. Finding a Palm Springs dentist doesn't have to be a difficult task any longer."
For busy families who may be looking for an orthodontist, an endodontist or a family dentist in Palm Springs, CA, Amini recommends turning to ChooseYourDentist.com first. The company recently added a mobile application to its already available online, Android and iPhone accessibility.
Further information on ChooseYourDentist.com may be found at http://www.ChooseYourDentist.com, by calling 1-888-I-CHOOSE, or by email at info(at)ChooseYourDentist(dot)com.