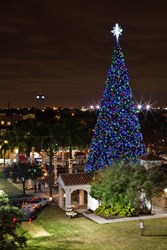 Delray Beach, Florida (PRWEB) September 30, 2013
When it comes to celebrating the holidays, the vibrant Downtown Delray Beach is South Florida's best-kept secret. Downtown Delray Beach commemorates the holidays in a unique way blending tradition mixed with a lot of Florida flavor. This year, Downtown Delray is gearing up to celebrate the holiday season in a big way, 100ft big to be exact.
The season kicks off with a special tree lighting ceremony on December 5th. For the past 20 years, the heart of Downtown Delray has been brightened by a one hundred foot Christmas tree is lit for the entire month of December. The Downtown Development Authority invites every come out and enjoy the Tree lighting ceremony. The entire downtown lights up with twinkle lighted palm trees and oaks from A1A to Interstate 95 creating a very festive Florida style atmosphere.
"There will be special shopping festivities, entertainment events, parades both on land and by boat, and of course incredible selections of dining venues to enjoy this very joyous time of year," expresses Marjorie Ferrer, Executive Director, DDA.
With fresh tropical breezes off the breathtakingly blue Atlantic Ocean keeping everyone comfortable in this historic Village by the Sea. In Downtown Delray, winter temperatures reach the low-to-mid 70's creating the perfect atmosphere for strolling the famed Atlantic Avenue shopping for that perfect holiday gift.
An impressive variety of accommodations stretch from the beach to the heart of the downtown and range from luxury, to historic, to whimsical -- all with a creative, tropical flair. Guests are welcome to explore outstanding arts festivals, delicious dining with al fresco seating, entertaining nightlife, fine art galleries, and an eclectic yet elegant mix of fashionable boutiques, all within reach of South Florida.
Visit http://www.downtowndelraybeach.com/hotels for the full listing and more information.
Delray Beach is a place for everyone this holiday season.
Holiday Season Event Highlights:
Nov. 27 – Menorah Lighting Ceremony
Dec. 5 – 100Ft Christmas Tree Lighting Ceremony and On the Ave Art and Entertainment Event
Dec. 13 – Holiday Boat Parade
Dec. 14 – Delray Beach Holiday Parade
Dec. 19 – Artists Alley Open Studio Holiday Celebration
Dec. 20-22 – Home for the Holiday's on Ice at the Delray Beach Center for the Arts
Dec. 28-29 – Downtown Delray Beach Craft Festival
Dec. 31 – Delray Beach First Night Celebration
All the details and contact information are available on the website http://www.downtowndelraybeach.com or our Facebook page http://www.facebook.com/delraydda. Visit the site continuous updates as well as register to receive email updates.
QUICK FACTS:

Delray Beach Tennis Center offers 21 courts and an 8,200 seat stadium which hosts tournaments featuring internationally recognized names such as Venus and Serena Williams, John McEnroe and Chris Evert.
Delray Beach is located between West Palm Beach (17 miles) and Ft. Lauderdale (24 miles).
Ocean Water temperatures are consistently 75-78 degrees
Delray Beach is served by two airports, Palm Beach International and Ft. Lauderdale International.
Located in the Golf Capital of the World, Delray Beach boasts two 18 hole public courses perfect for tournaments or individual play
********************************
About the Downtown Development Authority:
For the past 41 years, the Downtown Development Authority has assisted in successfully branding Delray Beach as the Village by the Sea. The Delray Beach DDA was created by Resolution 9-71, which became law on March 22, 1971, as a dependent district of the City of Delray Beach.
"The DDA Mission is to enhance and stimulate balanced economic growth through position marketing activities that engage Downtown businesses, residents and visitors while creating a clean, safe, physical and experiential place to live, work and invest."
The main areas of involvement in downtown development include: Marketing and Promotions; Economic development programs; Security and crime prevention; Traffic and parking; Clean and safe. In addition to the main areas mentioned above, the DDA also works closely with merchants to develop seasonal retail awareness campaigns to generate traffic and sales.
Contact:
Laura Simon, Downtown Development Authority
85 SE 4th Ave, # 108
Delray Beach, Fl 33483
(561) 243-1077
Lsimon(at)downtowndelraybeach(dot)com
http://www.downtowndelraybeach.com/dda