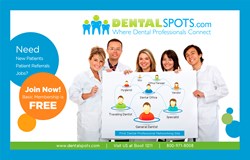 We've made it convenient for dental professionals to connect.
Dallas, TX (PRWEB) September 30, 2013
DentalSpots.com, the premier online dental jobs matching site, has added a new capability that helps traveling dentists connect and set appointments with general dentists through its online professional dental networking site. Previously general dentists with patients who needed a specialized service would have to refer those patients to outside dental practices. The DentalSpots.com network allows the general dentist to connect with a specialist who can perform the procedure in the comfort of the local dental practice.
Traveling dentists are dental professional who provide services to other dental offices. Usually they have specialized experience that general dentists do not, such as IV sedation, surgical extraction, or dental implants. The general dentist usually has to refer his or her patients to other specialists for these procedures. It is better for the patient to have the procedure performed in the comfortable surroundings of the general dentist's office and financially more advantageous for the general dentist to bring in a traveling dentist to perform these procedures. They share in the revenue with the traveling dentist, and patients are more comfortable.
Traveling dentists in Texas and traveling dentists in California who want to build a network of general dentist contacts are finding that the DentalSpots.com online professional network is similar to a professional networking site like LinkedIn, but it is only for dental professionals. Traveling dentists who are users of DentalSpots.com can search the database and find general dentists. They can then use the service to send a voice or email message asking that dental professional to join their network. Once connected, the DentalSpots.com features can be used to easily schedule traveling dentist appointments.
"We've made it convenient for dental professionals to connect," commented DentalSpots.com founder Feridoon Amini. "The traveling dentist can play a crucial role in helping general dentists better serve their patients and grow their practices. DentalSpots.com is the conduit for these two professionals to meet, connect, and communicate."
When the need for specialized services arises, the general dentist goes to their contact list and clicks on "request an appointment" next to the traveling dentist's name. The general dentist can view the traveling dentist's calendar and schedule an appointment there. Throughout the process, DentalSpots.com sends email and text notifications between the two parties. The traveling dentist is notified when an appointment has been scheduled. The general dentist is notified when the traveling dentist has accepted the appointment. The general dentist is also notified if the traveling dentist cannot accept the appointment so other arrangements can be made for the patient.
Further information on DentalSpots.com, the website where dental professionals connect, may be obtained by visiting the website at http://www.dentalspots.com, connecting on Facebook, following @DentalSpots on Twitter, or calling 1-800-971-8008.