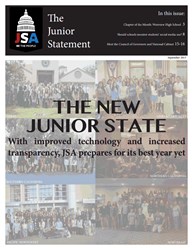 The Junior Statement is not only an outlet for Junior Statesmen to share their views on pressing issues, but is also a way of informing Junior Statesmen of important JSA events occurring around the country. - Junior Statement editor Lilia Abecassis
(PRWEB) September 30, 2013
The Junior State of America (JSA) today released the Fall 2013 Edition of The Junior Statement, its quarterly news publication. The student-written and student-edited online news magazine covered a variety of topics. From cyber-bullying to stop-and-frisk, to reflections on the experience of JSA's summer program at Georgetown, the students' varying perspectives were on full display in the latest issue.
"The Junior Statement is not only an outlet for Junior Statesmen to share their views on pressing issues, but is also a way of informing Junior Statesmen of important JSA events occurring around the country," said Junior Statement editor Lilia Abecassis. "With a nearly 40 person staff and monthly issues, The Junior Statement is sure to see its best year yet and I am honored to edit such a publication."
For JSA's student writers and editors, its publication is a major point of pride. Publication of the Junior Statement began in 1935 at the Montezuma School for Boys where the Junior State of America was founded.
Junior State of America (JSA): Providing civics education and leadership programs for nearly 80 years, JSA is the largest student-run organization in the United States. School-year programs take place in more than 450 secondary schools in 35 states, with more than 10,000 members. The JSA program is supported by the Junior Statesmen Foundation Inc., a 501(c)(3) tax-exempt educational corporation, which provides guidance to JSA's student leaders. It has offices in San Mateo, Calif., and Washington, D.C. More information is available at http://www.jsa.org/ or jsa(at)jsa(dot)org.
###