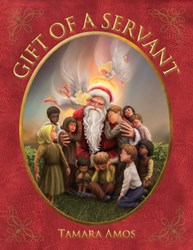 A must for any Christian home and people throughout the world. (Readers' Favorite)
Warrenton, VA (PRWEB) September 30, 2013
Mystical Rose Inspirations announces the release of its inspirational Christmas book about the meaning of Santa Claus, Gift of a Servant by Tamara Amos on October 1, 2013. In response to the increasingly commercialized identity that Christmas has taken on, Christian writer and mother of four, Tamara Amos presents a new spin on the tradition of Santa Claus, presenting him as a servant of God who brings children gifts as signs of God's love for them, reminding them that sharing the love of Christ is what Christmas is about.
Gift of a Servant is the recipient of twelve book awards and honors and is earning recognition in the Christian industry for providing Christians with an effective tool to restore peace to their holiday without discarding the 1600 year old tradition of St. Nicholas.
"(Gift of a Servant) will become a favorite for Christian parents who are worried that their children will forget Christ in the hustle and bustle of the holiday season. It closely follows the Christian belief that Santa is a beloved servant sent by our Lord to tell the children never to forget His love for us." (Readers' Favorite)
The concept that Santa Claus can bring people closer to Christ at Christmas is steeped in the Christian tradition of honoring saints for leading holy lives and was instilled in Tamara when she was young by her father, Brian Page, who when asked what he wanted for his birthday, responded that he "would like for someone to write about how people can come to know God through Santa Claus." Twenty years later, Brian is receiving his gift.
"Christmas and its traditions are among the greatest treasures of our faith. For about two thousand years, people have found peace in this celebration of love, joy, and generosity," says Amos. "It's important that Christians preserve the integrity of our holiday and not allow the secularism and materialism of our present culture to rob us of its power to refresh the soul and heal the heart."
Written in verse by Tamara Amos and richly illustrated by David W. Luebbert, Gift of a Servant is the fictional tale of a father who blames Santa for the holiday hysteria that has taken over Christmas. He blames Santa and decides to wait up for him on Christmas Eve to demand his resignation. When Santa comes, however, he gives Dad an unexpected gift: a glimpse into the heart of his mission to bring "gifts of love from Heaven above" to God's children, reminding them that Christmas is about sharing the love of Christ. It is available in deluxe hardcover, e-book, and kindle editions.
With a BA in Theology, a background in ministry, education, and business, Tamara Amos is an award-winning Christian author and inspirational speaker who brings a fresh perspective to modern issues.
For more information, visit http://www.giftofaservant.com.