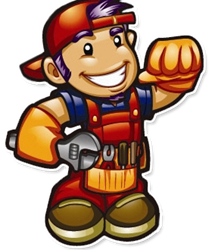 We love our jobs, and we are a happy & confident company that prides ourselves on giving the best plumbing and pricing available today!
Los Angeles, CA (PRWEB) September 30, 2013
In a day and age when more and more business gets done online, the personal element sometimes seems in danger of getting lost. Not so at The Drain Dudes® plumbing company. Since 1995, this family owned company has been forging lasting connections with clients by demonstrating a commitment to excellence in customer service. Today, the company continues to maintain a high standard in friendly, personalized service as it serves happy customers across Southern California each month.
At The Drain Dudes®, the commitment to excellence in customer service begins the instant a customer dials their number. A friendly receptionist fields the call and immediately dispatches a professional plumber to the customer's aid.
The Drain Dudes® is able to respond quickly to any plumbing need because they have expert plumbers on call 24/7. Each plumber drives their own fully-equipped and environmentally friendly truck so they have all the tools needed to handle routine plumbing tasks like drain cleaning, plumbing fixture repair, and leak detection right at hand.
As part of the company's effort to provide stellar customer service on every visit, all of The Drain Dudes® plumbers are trained to conduct themselves in a friendly and professional manner and treat customers and their property with respect. These uniformed plumbers are courteous, knowledgeable and professional. Customers are comfortable letting them into their homes, and they always make an effort to do their work with as little mess and disruption as possible. The Drain Dudes® use shoe covers when they are inside a home and also lay mats out for their tools so that floors are protected. They even offer trenchless sewer repair to minimize the impact of the repair on a customer's landscaping.
Honesty is an important aspect of The Drain Dudes'® commitment to excellence. Unlike other plumbers who may be content to simply provide the easiest repair without bothering to fully investigate the situation, a plumber from The Drain Dudes® will always look for the root cause of the customer's plumbing problem. That way, they can provide a lasting repair rather than a temporary fix.
For example, The Drain Dudes® are often called out to provide drain cleaning, which is one of their core services. Sometimes the customer's drainage issue is not caused by a pipe blockage at all, but by serious deterioration of their plumbing system. The Drain Dudes® take the time to properly diagnose the problem and explain all the implications and possible solutions to the customer in a clear and honest manner. Clients definitely notice and appreciate this level of excellence in customer service.
About The Drain Dudes®
The Drain Dudes® is a full service plumbing company committed to providing customers with the best, the fastest, and the cheapest plumbing services in Southern California. With an extensive mobile fleet of professional plumbers available to serve customers 24/7, The Drain Dudes® can provide drain cleaning, leak detection, septic tank service, trenchless sewer repair, and other plumbing services right when customers need them.
Contact Information:
Visit our website today at http://www.draindudes.com or call 1-877-700-0160 to schedule an appointment.