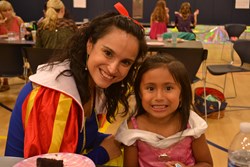 The evening is meant to celebrate that we are all called to love and be loved in our special way as God intended," noted Saira Herboth, Formation Instructor on the Everest faculty.
Lemont, IL (PRWEB) September 30, 2013
At Everest Academy mothers and daughters celebrated one another and enjoyed being together at a princess themed event as did fathers and sons in the Father- Son Camp Out. These annual events were recently organized and sponsored by the school.
Everest Academy builds its curriculum on the philosophy that every child is unique, created in God's image and likeness with special gifts and talents that are meant to be shared with others. At Everest personal attention comes from the team of faculty, staff, and parents, supporting each child in their education to become leaders, convicted in truth and knowledge. In providing an opportunity to spend time together with just mom or just dad, this personal attention was reaffirmed by the community of Everest and together all parties involved were treated to fun and memorable occasions!
The mothers and daughters, many dressed as princesses, entered the school on a Friday evening to find the gym decorated in all things pink and the sound of music from every girls' favorite princess movies filling the air. Moms and daughters kicked off their special evening enjoying appetizers and desserts. They learned more about one another, enjoyed discovering their similarities and celebrating their differences.
With glitter, sparkles, balloons and banners surrounding them, moms and daughters were made to feel that special Everest personal attention in a new way. That evening they gained a better understanding that they are princesses always, as daughters of Christ the King. In breakout sessions moms were supported in their quest to raise children and the girls were supported in their quest to be ready for adventure and to embrace their inner beauty. Tiaras and crowns were decorated and then worn proudly. Adorned heads bobbled about during an energetic bout on the dance floor.
"Not only did the mothers and daughters have a great time in just being together, but the moms enjoyed one another and the daughters enjoyed their friends," said Saira Herboth, who is the Formation Instructor on the Everest faculty. "The evening is meant to celebrate that we are all called to love and be loved in our special way as God intended; everyone certainly left feeling very special.
For the boys and their fathers, Everest Academy hosted the Father and Son Camp Out. The thirty-two acres that Everest Academy is situated on became a forest of adventure, explorations and challenges. Over thirty tents were set up on an area cleared for the event. A large bonfire was at the center surrounded by an area for wheel barrow jousting, paint ball shooting, a mountain of wood for climbing and space for hanging out.
The fathers and sons were led through a scavenger hunt that built confidence and conviction as each treasure was uncovered. The duo of fathers and sons worked together to hunt down an imaginary bird-like creature known as a snipe that resides only on the Everest grounds and in the imaginations of those who are great thinkers. The activities were led by an enthusiastic group of young men, high school graduates, and part of the LC Mission Core, who give a year of their time to serve the church. The evening under the stars was full of fascinating adventures and fun. Camaraderie was built. Dad's campfire food was served. All went home the next day content to have been out closer to creation, in the woods of the great outdoors.
Everest Academy is an independent Roman Catholic school in Lemont educating children from preschool through eighth grade. The teachers and staff are dedicated to forming the whole child by providing the highest level of academics, by building strong character, and by preparing generous leaders ready to serve the community. If you would like to learn more about Everest Academy's unique approach to education, please contact Coleen Mast at 630-243-1995 or visit http://www.everestadvantage.org.