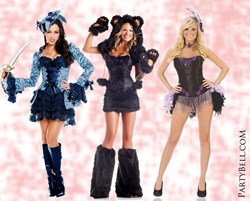 Our ever increasing loyal customer base speaks of the trust that our customers show, on our best practices- starting from genuine products till the after sales support. - Marketing Head of PartyBell.com
Powell, OH (PRWEB) September 27, 2013
PartyBell.com, the online costume store, provides best quality costumes & party supplies for all age groups without burning a hole in the pocket.
Celebrations are a part of life and PartyBell.com understands the need to celebrate. PartyBell.com just wanted to make it easy for people to find perfect costumes & supplies at affordable prices. Now customers do not have to browse from one site to another as PartyBell.com sells more than 100 themes and 20,000 products to choose from. It is not just another Halloween store. It has costumes and party supplies for all events, like Thanksgiving, Mardi Gras, birthday and other occasions.
"PartyBell.com strives to give the best quality products at the lowest prices compared to other online stores," says the owner of PartyBell.com, Ankush Aggarwal.
To make things easy for its customers,PartyBell.com has a user friendly website layout. With themes, events and categories neatly classified, it is easier for customers to navigate and purchase items. For example, if a customer is looking for a Batman costume, the website has neatly sub- categorized the Batman theme under TV & Movies Category, making it easier for the customer to find the desired product. Along with the lowest prices, PartyBell.com also provides low price shipping with fast delivery options and a hassle-free return policy.
For the past six years, PartyBell.com has been serving its customers with the latest theme costumes and party supplies. It is continuously getting five star ratings from leading third party customer feedback agencies, like Ekomi and Resellerratings, setting a benchmark in the industry.
Looking forward towards Halloween 2013, PartyBell.com has one of the largest collections of theme costumes, accessories and party supplies. PartyBell.com not only caters to the adults but has dedicated sections for infants, teens and pets. It has a huge collection of officially licensed costumes of popular movie characters, cartoon characters and Disney characters at unbeatable prices.
"PartyBell.com wanted to target everyone, be it adults, teens or kids. PartyBell.com has everything for everyone, suiting customer's pockets. PartyBell.com has themes ranging from scary to spooky, Disney to funny-humorous themes, as well as dedicated sections for birthday costumes & Birthday Party Supplies. It offers genuine products and promise to deliver the same to its customers within a defined time. Lowest prices on internet is the major USP," says the marketing head of PartyBell.com.
PartyBell.com makes the online shopping experience memorable for its users by providing round the clock customer support for phone and email, real time order tracking system and safe transaction modes. PartyBell.com keeps on adding new products and themes to its collection on a regular basis, providing customers with the latest popular theme costumes.
"The increasing loyal customer base speaks of their trust. Best practices are employed, from offering genuine products to after sales support," says the marketing head of PartyBell.com.