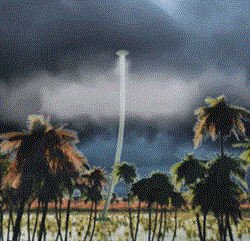 At this point it can be shown that not only Super Chimney can help to cool atmosphere, but also that is possible to build a super chimney at a reasonable price
Wayne, NJ (PRWEB) September 09, 2013
The global warming crisis is worsening, stronger than ever as hurricanes, floods, and droughts are happening all over the planet. Governments are considering different options to fortify cities to make them withstand weather abnormalities. None of these solutions are easy or cheap. But there is hope for not only solving global warming crisis, but also actually making that solution profitable.
Back in 2008, Michael Pesochinsky developed the idea of utilizing Super Chimney technology as a unique way to avert a global warming catastrophe and simultaneously generating clean energy and providing desert irrigation. While that idea had a warm reception, it was never taken seriously as there was no practical or economical way to build the Super Chimney.
Finally, after 5 years of development there is a reason for optimism: the work over the Super Chimney solution for the global warming has been brought to a new level. At this point it can be shown that not only can Super Chimney help to cool atmosphere, but also that is possible to build a Super Chimney at a reasonable price.
Here is an educational video released in August 2013: http://www.youtube.com/watch?v=BfITeN76Thc. The video explains how the Super Chimney works, how it cools atmosphere and how it can be build. As explained in the video, it will take an investment of only 0.2% of the world's gross domestic product to solve the global warming crisis. The return on this investment will be the creation of millions of acres of arable land in tropical deserts and the generation of massive amounts of electricity. Combined benefits will be multiplied by money saved by reducing natural disasters, which will decline globally as the global temperature drops.
Everyone is encouraged to spread the news about the invention. The website, http://www.superchimney.org, outlines the invention and gives finer details, including how the invetion works and supporting calculations. Please "like" it on Facebook and other social media sites to make it go viral. Discuss it on all social forums to make people aware of it. The global warming crisis can be solved in the foreseeable future if the Super Chimney idea attracts the attention of governments and investors from all over the world.
Interview Contact:
Michael Pesochinsky
mike(at)superchimney(dot)org