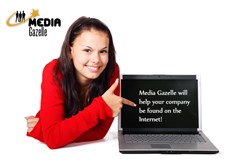 Erie, PA (PRWEB) September 03, 2013
There is a new company with a unique name called Media Gazelle which recently launched its websites and services for people to employ. The web portal offers services related to social media networking and generating profits from creating a buzz about the client's companies via the online platform at a nominal price.
The company offers its services according to three differently priced packages and the companies can choose from either of them depending on their budgets. There is the Starter kit which comes for $499 per month, the Standard kit costing $899 a month and the Advanced package priced at $1299 a month.
Media Gazelle will, via these packages, manage their buyer's Facebook, Twitter, Instagram, Pinterest and Google + accounts and launch social media campaigns through them. To appeal to users, it will post deals, specials, events and such other monthly updates on these social media pages according to the business' needs, thus creating and keeping a community of people engaged who can become customers of the said company for which the services of Media Gazelle have been used.
The freshly launched web portal will create a unique, targeting campaign based around the specific niche that the client company requires by using tools like Hootsuite, Adobe Photoshop and such others to generate the desired interest among the audiences. Owing to the increased demand of social media marketing, thanks to the internet boom of today, the need for having a constant presence online has been felt by many companies, especially the small and mid sized ones which cannot possibly afford nation wide print and digital advertising campaigns.
Managing reviews online and responding to each and every query, appreciation or complaint by customers on the virtual platform is almost like a full time job which businesses cannot waste time on. Thus Media Gazelle undertakes this responsibility as well and responds to positive as well as negative comments posted online on behalf of their client company so as to offer a personal touch to the customers who in turn will appreciate a customized feedback being given to them.
Media Gazelle is a company based out of Erie, PA, USA, founded by Justin Welton. The company represents small-to-medium sized businesses that are looking to improve their social media and/or Internet presence.
Name: Media Gazelle
Location: USA
Email: justinw@mediagazelle.com
Phone: 814-428-1688
Website: http://www.mediagazelle.com