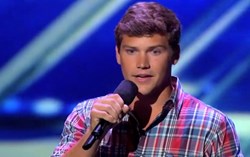 We [Restless Road] all really just love to live the simple life.
Atlanta, GA (PRWEB) October 11, 2013
The first time Andrew Scholz, AMTC grad, sang on the stage, he nearly got kicked off by the female judges, until Simon requested that Andrew sing a second song. That country song, A LITTLE MORE YOU, got him four yesses. What a difference a song can make.
RESTLESS ROAD sat on seat #4 and wasn't questioned when Alex & Sierra had to bump a group out.
Three summers ago, Andrew participated in the Actors, Models and Talent for Christ bi-annual SHINE conference. He came with a regional affiliate Millie Lewis Modeling Agency of Greenville, S.C. Scholz's hometown is Summerville S.C.
This is where the three guys bonded once Simon asked them to become a band. "We all really just love to live the simple life," says Andrew. They went fishing, horseback riding and hung out together.
Simon saw this bond. Last night he said, "I was so sure this was going to work, but for it to work you've got to have two things...talent and friendship...and I saw both things today." Demi Lovato, who had previously been the toughest judge on Andrew said, "I just got chills all over my body...Simon, I hate to say, is a genius for putting you guys together." Paulina Rubio added, "I love you three…your different vocal blend so well...you are amazing." And with the crowd screaming behind her, Kelly Rowland pulled it all together with, "you guys are such an incredible country trio!"
The X-Factor live shows will begin on October 29, 2013.
AMTC is currently holding auditions in major cities across the country for the next official SHINE talent showcase being held December 31- January 5, 2014 at the Gaylord Palms. AMTC is a 501c3 non-profit ministry dedicated to making good bolder in film, fashion, music and theater. It has been the starting point for hundreds of successful artists and grads.
If you have any questions about Actors, Models and Talent for Christ, please visit
http://www.AMTCworld.com or call 1-800-STAR-420. To see where an audition is near you, please visit: http://www.AMTCaudition.com.