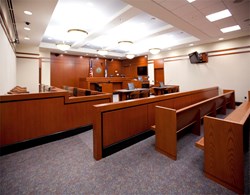 Falls Church, Virginia (PRWEB) October 10, 2013
HITT Contracting Inc. was honored last night with two awards at The Associated General Contractors (AGC) of Metro DC's annual Washington Contractors Awards event at the Embassy of France. HITT received a Contractor Safety Award and a Project Award for the Jennings Building Courtroom 5F Renovation project.
HITT was recognized for outstanding workmanship in the category of companies over $400 million for the Jennings Building Courtroom 5F Renovation in Fairfax, Virginia. The project consisted of a full renovation of an existing courtroom that was completed during off-hours in a functioning courtroom. To complete this renovation two weeks ahead of schedule and on budget, the management team and subcontractors maintained a high level of communication and coordination throughout the project's duration. Earlier this year, the Fairfax County Department of Public Works and Environmental Services presented HITT with an Award of Excellence for building design and construction for this project.
In addition, HITT won the 2013 Washington Contractor Safety Award. This is the second year in a row that AGC recognized HITT's ongoing commitment to safety. HITT firmly believes that safety is an integral part of the construction process, on an equal basis with production and quality. The safety department at HITT has developed and implemented policies, procedures and a training program designed to increase the safety awareness of everyone associated with construction projects. Since 1989, HITT's Experience Modification Rate (EMR) has not been higher than 0.76. HITT's current EMR is 0.64 which is among the lowest in the industry.
The Washington Contractor Awards Program honors exceptional construction projects from the Metropolitan Washington DC area.. This prestigious annual competition recognizes the accomplishments of member contractors in their professional roles on the winning projects. Entries are judged by a panel of owners and construction professionals..
About HITT Contracting Inc.: Founded in 1937, HITT Contracting has grown to be ranked among today's 100 Largest General Contractors nationwide, with offices in Washington, DC, Atlanta, Baltimore, Charleston, Denver and South Florida. Our client-focused teams fulfill any program need from a doorknob change to base building shells and complete tenant/owner fit-outs. Company-wide, HITT maintains more than 700 employees, including a skilled in-house field force available 24/7 to support clients long after initial occupancy. The HITT Way for quality and excellence defines the core of our mission and how we are structured. Teams are organized into expert market sectors, specializing in corporate base building and interiors, government, healthcare, hospitality, institutional, law firms, major projects, paint and service and technology. Complementing these market sector teams are the preconstruction, sustainable construction and subcontractor relations divisions. For more information, please visit http://www.hitt-gc.com/. Follow us @twHITTr.