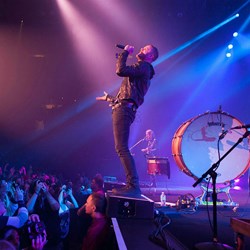 (PRWEB) October 31, 2013
The American Music Awards, better known as the AMAs, recognize the most popular artists and albums from the year. The nominations for the awards were recently announced on October 10th, and Macklemore & Ryan Lewis lead the nominations voting with six. Following close behind are artists such as Taylor Swift, Justin Timberlake, Bruno Mars, and Rhianna.
The American Music Awards are one of the few awards ceremonies that takes into account fan voting. To vote for your favorite artist, fans can go through ABC's website, which the network the awards show will take place on. Some of the categories fans can vote for include: New Artist of the Year, Single of the Year, Favorite Album (Pop/Rock), Favorite Country Male Artists, Favorite Rap/Hip Hop Female Artist, and many more!
Not only can fans enjoy a chance to vote for their favorite songs and performers, but they can have a chance to attend the ceremony as well. This famous, star filled event will take place on November 24th, 2013 at the Nokia Theater in Los Angeles, and it will begin at 5 p.m. PT. Ticket Monster has plenty of available tickets to this event, and they can be found at http://www.Ticketmonster.com. This could be a chance to sit in a venue filled with the world's most famous performers!
The awards this year will be hosted by Will.i.am from the Black Eyed Peas, and pop star Kelly Clarkson. Not all performers are set in stone yet, but guests and TV viewers can guarantee on seeing perform is the lively and recently tabloid famous Miley Cyrus. What crazy stunts she will pull this time? No one knows. But you can be there to see the action LIVE! Don't miss out on this chance! Other set performers for this year's show also include Florida Georgia Line, who are nominated for New Artist of the Year, along with Imagine Dragons and One Direction, who are both nominated for Favorite Band, as well as others.
Country and pop music fans that want to see Florida Georgia Line perform elsewhere in 2013 can still do so! The famous new group will continue touring the US through February. You can catch them on their own, or opening for Jason Aldean on his 2014 Night Train Tour. Their Here's to the Good Times Tour will end on December 31st in Duluth, Georgia. Imagin Dragons will also be touring America in 2014. Their "Into the Night" tour will feature 21 shows, and will begin in Boise, Idaho on February 8th. Other stops for the band include venues in cities such as Seattle, Austin, Nashville, Atlanta, Chicago, Denver, and many more. Imagine Dragon tickets can be found at Ticketmonster.com, along with many other concert tickets. Ticket Monster does not charge service fees, and makes purchasing concert tickets fun and easy. Visit the site today to buy your American Music Award tickets today!