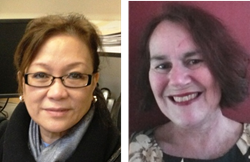 Falls Church, VA (PRWEB) July 31, 2013
The American Psychiatric Nurses Association (APNA) is pleased to announce the recipients of the 2013 APNA Annual Awards. The APNA Annual Awards recognize nurses who exemplify excellence across the spectrum of psychiatric mental health nursing practice, education, leadership, research, and innovation. An APNA Annual Award is one of the highest forms of recognition from psychiatric mental health nursing peers: the awards recipients were nominated by colleagues and chosen by The APNA Awards & Recognition Committee, a committee of fellow APNA members. This year's awards recipients will be honored in person at the APNA 27th Annual Conference this October, in San Antonio, Texas.
The recipient of the 2013 APNA Psychiatric Mental Health Nurse of the Year Award is Jocelyn Perez, BSN, RN, MA, Nursing Director in Behavioral Health at Metropolitan Hospital in New York City. In this capacity, she leads more than 200 nursing staff in providing care across inpatient, outpatient, and emergency room settings. "She has demonstrated unique leadership qualities, has a genuine love for her work, and she strives for nothing short of excellence in patient care and teaching and supporting her staff," says William Wang, a coworker who nominated her for the award. Perez has spearheaded several programs and initiatives in order to improve delivery of care and patient safety as well as support her staff. "I adore my working environment at Metropolitan Hospital - the leadership, my peers and my staff," says Perez. "They always inspire me and encourage me to persevere in carrying out our mission of providing high quality patient care."
The 2013 APNA Award for Distinguished Service, which recognizes a member for her commitment, initiative, loyalty, integrity, and exceptional and meritorious service to the American Psychiatric Nurses Association, has been awarded to Helen Birkbeck, APRN. "Helen Birkbeck is truly dedicated to her profession, her patients, her colleagues, her community, APNA, and her APNA Chapter," says Karen Chesley, MSN, RN, CS, who nominated Birkbeck for the award. "She has distinguished herself by her service to psychiatric-mental health nursing and is a most deserving candidate." Birkbeck works in the Connecticut Department of Corrections during the week, providing care to an underserved population, and on the weekends works as a visiting nurse with chronically mentally ill clients in her community. Birkbeck is currently the APNA New England chapter's Immediate Past President and Connecticut State Representative as well as a member of the APNA Forensic Nursing Council Steering Committee.
Seven psychiatric-mental health nurses were also recognized with APNA Annual Awards for their commitment to excellence in specific aspects of psychiatric-mental health nursing:
Joanne M. Matthew MS, RN, PCNS
Director of Nursing Quality & Intensive Treatment Unit, Butler Hospital
Rhode Island
Award for Excellence in Practice - APRN
Donna M. Riemer RN-PMHN
Registered Nurse Consultant, Certified Clinical Traumatologist, Certified Compassion Fatigue Specialist; Department of Health Services/Bureau of Prevention, Treatment & Recovery
Wisconsin
Award for Excellence in Practice - RN
Gail R. Stern MSN, PMHCNS-BC
Administrator, Department of Psychiatry, Lehigh Valley Health Network
Pennsylvania
Award for Excellence in Leadership - APRN
Judy S. Linn BS, BSN, MS
Director of Nursing, Alameda County Medical Center
California
Award for Excellence in Leadership - RN
Merrie J. Kaas DNSc, RN, PMHCNS-BC, FAAN
Associate Professor, University of Minnesota
Minnesota
Award for Excellence in Education
Genevieve E. Chandler RN, PhD
Associate Professor, University of Massachusetts – Amherst
Massachusetts
Award for Excellence in Research
Marian W. Roman PhD, PMHCNS-BC
Associate Professor, University of Tennessee - Knoxville
Tennessee
Award for Innovation - Individual
The APNA 27th Annual Conference will be held October 9th through 12th at the Henry B. Gonzalez Convention Center in San Antonio, Texas. In addition to recognizing these APNA Annual Awards recipients, the program will feature more than three days of networking and continuing education specific to psychiatric nursing for RN and advanced practice nurses alike. Those interested in attending can register here: http://www.apna.org/i4a/pages/index.cfm?pageid=3465.
The American Psychiatric Nurses Association is a national professional membership organization committed to the specialty practice of psychiatric-mental health nursing and wellness promotion, prevention of mental health problems and the care and treatment of persons with psychiatric disorders. APNA's membership is inclusive of all psychiatric mental health registered nurses including associate degree, baccalaureate, advanced practice (comprised of clinical nurse specialists and psychiatric nurse practitioners), and nurse scientists and academicians (PhD). APNA serves as a resource for psychiatric mental health nurses to engage in networking, education, and the dissemination of research.