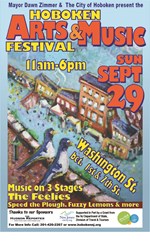 This will be the perfect opportunity for us to promote the MallStand mobile app to customers and local merchants alike
Hoboken, NJ (PRWEB) September 24, 2013
MallStand, the hyper-local social shopping application, announced that they will be a participating in Hoboken's Fall Art & Music Festival on September 29, 2013. This local business will set up a booth to promote their new mobile app which offers online food delivery, discounted daily deals, and online boutiques to browse products and services offered in the area.
The Hoboken Arts & Music Festival will feature over 300 artists, crafters, photographers, local businesses & restaurants, food vendors, and much more. The festival will also include three stages of live music, all spanning Washington Street between Observer Highway and Seventh Street.
"Festival goers will be able to browse through hundreds of various booths and stalls local vendors, businesses, and restaurants. This will be the perfect opportunity for us to promote the MallStand mobile app to customers and local merchants alike" said Andrew Jensen, founder and CEO.
Along with the participation in the local Hoboken Arts & Music Festival, the MallStand team has been working to cultivate partnerships with local restaurants and bars to assist in future marketing campaign efforts that will begin in early October.
About MallStand
MallStand is a web and mobile social shopping platform transforming traditional online shopping. By utilizing various social networking tools MallStand creates an environment that fosters communication between users and merchants. MallStand provides shoppers with a centralized online location to mingle, shop, and share.
About the 2013 Hoboken Fall Arts & Music Festival
Mayor Dawn Zimmer and the City of Hoboken present the Hoboken Fall Arts & Music Festival. Featuring over 300 artists, crafters, photographers, local businesses and more. Plus 3 stages of live music featuring The Feelies, Speed the Plough, The NERDS, Stuyvesant, Davey & the Trainwreck, Danny Matos y Son Candela Salsa Band, Carolina Jug Stompers, The Fuzzy Lemons and more. There is a special section for children with rides, games, creative activities, face painting, sand art and more. Supported in part by a grant from New Jersey Department of State, Division of Travel and Tourism. Admission is Free. 11 am - 6 pm.