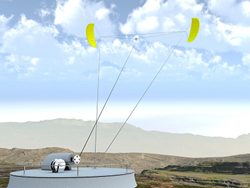 San Jose, CA (PRWEB) September 09, 2013
Airborne Wind Energy Labs presents its new research in application of airborne wind energy systems to energy storage and vehicle fuel manufacturing.
The main problem inhibiting advance of renewable energy is that electrical energy cannot be stored economically. An airborne wind conversion system, directly charging a thermal energy storage, can become the first economical energy storage, not dependent on specific and rare location features. The proposed system converts wind energy directly into heat, which is stored in a low cost thermal storage, then used to drive a steam turbine and produce electricity in the time of elevated demand or reduced supply. The system does not require rare or expensive materials, components or construction techniques.
Existing renewable energy approaches do not address need in vehicle fuels. This need is not satisfied by battery powered electric vehicles because of high cost and low durability of the batteries. Synthetic fuels can be manufactured from natural gas using airborne wind energy, at lower cost than by traditional methods and without excessive gas use.
Airborne Wind Energy Labs, located in San Jose, CA, is best known for its novel airborne wind energy system, which achieves an order of magnitude decrease in wind energy costs well below the costs of electricity from natural gas.
Airborne Wind Energy Conference is an annual international event, bringing together the best minds in the field from academy, industry and government. This year, there are more than 300 attendees from more than two dozen countries. This is the first time that this conference is held outside of the US. The list of organizers and speakers includes representatives of NASA and Google Makani Power. Airborne wind energy is the most innovative and promising direction of the renewable energy development.
For more information, contact:
Airborne Wind Energy Labs
97 South Second Str.
San Jose, CA 95113
http://www.awelabs.com