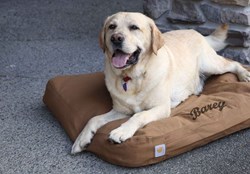 Barey Bones is our ultimate trend spotter. This list of fun and unique favorites reflects our top sellers from years past and hot new items for this holiday season. - Stu Nelson, CEO of BareBonesWorkWear.com.
Sacramento, CA (PRWEB) November 05, 2013
BareBonesWorkWear.com, a top online work apparel retailer with five locations across Sacramento, Auburn and Truckee, Calif., features nearly one million SKUs through their online shop. From practical to stylish, there is something for every member of the family from people to pets. This holiday season Barey Bones, BareBonesWorkWear.com's "spokesbear", has compiled his inaugural "12 Barey Cool Holiday Gifts" list of the top 12 items expected to be hot sellers for 2013.
1. Personalized Carhartt Dog Bed
So comfy, Fido has to beat his human to it! After a long day of chasing squirrels, digging in the garden, and chewing on a bone, Fido just wants to lie down and rest. This oversized Carhartt dog bed is easy to stretch out on thanks to the 28 x 36 size, has a heavenly padded interior, and made with the Carhartt classic 100% cotton canvas brown duck dog parents can't help but envy. Embroider your pet's name!

2. Focusing LED Headlamp with Multiple Energy Sources by Coast
This holiday you don't have to worry about buying mass amounts of batteries for all the cool gadgets you give out. Thanks to the Coast Focusing LED Headlamp, this will be one of the easiest gifts to give this year. Super cool optic headlamp has a "Bull's Eye" LED beam that can help you see up to 357 feet! Since its impact and water resistant, you can take those adventures you've always dreamed of. The best part, it includes three AAA batteries and a rechargeable power cord. No more relying on batteries, because with the Coast Headlamp you can get up to 76 hours of fun! $41.97 online
3. 5.11 74401 Men's Traverse Pants
Have you ever wished you could wear your pajama pants everywhere, even to work? With the 5.11 Men's Traverse Pants you will get the comfort level of your pajamas and the strength of tactical pants. Light khaki cargo pants are made with a four-way stretch fabric that's designed for extreme mobility thanks to the high back stretch waistband and the articulated knees. You can even work through those rainy days thanks to quick drying fabric that will keep you dry in a jam. Great work or casual pant makes for a great gift! $99.99
4. Georgia Boots Comfort Core Line
Work just got a little more comfortable thanks to the Georgia Boots Comfort Core Line! Exclusive through Georgia Boots, the Comfort Core Boots are unique because of the supportive foot bed that molds to the shape of your foot and, over time, will feel as if it has been made specifically for your foot. Tough full grain leather and Armortex® fabric with Kevlar® construction stretches to contour to the shape of your foot while providing abrasion control for fast abrupt movement. Georgia Boot's Comfort Core Collection was made for the hard working men who like their work boots to have a high level of durability while maintaining a classic look. From $250
5. Carhartt 125th Limited Edition Anniversary Gift Pack
A Carhartt Lover's Dream Come True! Announcing the Carhartt 125th Limited Edition Anniversary Gift Pack. Receive a new Carhartt EXCLUSIVE, NEVER-BEFORE-SEEN gift every month for six months starting January 2014. After a one-time purchase, we will send you and/or other Carhartt lovers in your life a limited edition Carhartt gift every month for the next six months! Items include clothing, accessories and more! Buy before December 18th to save an additional 10% off the already low price of $210.
6. Johnny Popper Kid's Classic Wellington Boot
Classic pull on Wellington-style work boots now come in kid size. Let your little boys run wild outside in their new Johnny Popper Kid's Wellington Boot in Green and Tan Leather! Tall color block boots have easy pull on leather straps that make on and off easy for you. These aren't just kiddy boots, these have a Goodyear Welt Construction, non-marking rubber soles and a soft moisture wicking lining that will keep their feet from sweating with all the outside play. Whether it's helping Dad on the farm or playing in the backyard, your kids' feet will be one less thing you'll have to worry about! Starting at $83
7. Wigwam Silk & Merino Sock (Great stocking stuffer!)
Give your entire family the gift of comfortable feet with the most cozy and functional, US made, Wigwam Sock! Made with silk and the softest Merino Wool, Wigwam socks provide insulation and a cushioned sole for long work days or hours of relaxation. Don't worry about them getting smelly because they are naturally odor resistance and have moisture wicking abilities to keep your foot dry. Soft stretchy material contours to your foot in a seamless design with a reinforced heel and toe. A great stocking stuffer, literally! $7.99 to $19.99
8. Canvas Duck Nail Apron
Got a big project coming up ? Introducing the Carhartt Duck Nail Apron, the best assistant you could ever hire! Classic nail apron has four large pockets, two small pencil pockets and two tool loops. The Carhartt lover in you will really enjoy the classic 100% Cotton duck canvas material and sturdy adjustable waist belt. Give the hard worker in your family an updated belt that's built to last, just like that tree house! $19.99
9. Classic Red Union Suit, Complete with Trap Door
Feel like a kid again this holiday season when you un-wrap the Carhartt Men's Cotton Union Suit! Classic one-piece Long John has a relaxed fit with a crew neckline, snug long sleeves, and long pants that deliver total body warmth. For comfort and convenience, button up front makes for easy on and off, while button snap back is just darn convenient! From $37.99
10. Pink Cowgirl Boots with Rhinestones by Durango
Winning over the heart of your little girl is as simple as giving her a pair of bright pink, sparkling cowgirl boots! What little girl doesn't dream of riding a pony while wearing theses stylish boots? Cute pink boots have an easy pull on style for you and a rhinestone encrusted harness for her. Durable for playing outside and cute for school pictures. Be warned, once she puts them on, you may never get them off! $49.95
11. Hard Hat Cowboy Style (white and black available)
Life as a cowboy is real hard, so hard you need a hard hat. Good thing you don't have to feel bad setting down your trusty cowboy hat just because you're at work. The Cowboy Hard Hat is shaped like a traditional cowboy hat, yet is ANSI Rated, providing the standard industry protection. Protect your head from hazardous flying objects and the fastest bandit in the west, UV Rays! A hard day's work won't show on your brow thanks to the cotton terry sweatband that soaks up faster than a puddle in the desert! Keep your cowboy style even at work! $23.99
12. Klean Kanteen Stainless Water Bottle with Bamboo Top
Sometimes contributing to the well being of the environment can seem so hard to achieve. Now with a reusable Klean Kanteen, you can feel a little better about not buying a plastic water bottle every day. Staying hydrated will be so much easier thanks to the 27 oz stainless steel bottle that's equivalent to three glasses of water. You can also feel good about the recycled bamboo cap that gives it a cool edge. Know you're helping reduce pollution one Kanteen at a time when you give them as gifts this holiday season! $32.95
"Barey Bones is our ultimate trend spotter. This list of fun and unique favorites reflects our top sellers from years past and hot new items for this holiday season," explained Stu Nelson, CEO of BareBones WorkWear ®. "
About BareBonesWorkWear.com
BareBonesWorkWear is a leading provider of useful apparel, footwear, and accessories for the construction, medical, restaurant, law enforcement industries and outdoor lifestyles. Based in Sacramento, California, BareBonesWorkWear® operates five retail locations in Northern California including: Truckee-Tahoe, Auburn, Sacramento, Rancho Cordova and West Sacramento. For more information and an even larger selection of products online, visit http://www.BarebonesWorkWear.com.
###