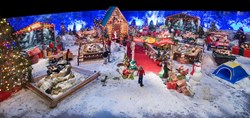 'My favorite part is that it puts a smile on my daughter's face,' said Mark of Ft. Lauderdale, Fla., after visiting the Santa's Wonderland at the Bass Pro Shops in Fort Lauderdale.
Springfield, MO (PRWEB) November 04, 2013
Bass Pro Shops Santa's Wonderland - a Christmas Classic - is returning for its sixth year to 57 Bass Pro Shops stores throughout the U.S. and Canada. Santa will arrive at some locations in a Tracker® boat pulled by a Toyota Tundra truck on Saturday, Nov. 9 at 5 p.m. for a special preview celebration. The rest of the Christmas season families are invited to create new traditions and lasting memories at Bass Pro Shops through no-cost pictures with Santa, crafts for kids, and games and activities to celebrate the season.
"The evening Santa arrives will be a special celebration featuring Christmas carols in front of the store. On Nov. 9, we'll also be treating customers to cookies and McSteven's hot chocolate," said Katie Mitchell, Bass Pro Shops communications manager. "Plus in participating stores, kids will be invited to help Santa, through a little magic, to light up the outside of the store and a big Christmas tree in the main entrance. Kids can then follow Santa into the store for the unveiling of Santa's Wonderland.
Santa's Wonderland will dazzle visitors with its variety of animated Christmas characters such as nutcrackers and reindeer as well as live Christmas elves. The Christmas village offers an old-time model train area, remote control trucks, a laser arcade, and slot car racing*. Kids can also spend time at one of the activity tables where they can write a letter to Santa, color and do fun crafts at no-cost.
Special Nov. 9 free preview night activities include:

5 p.m. to 7:30 p.m. — Santa will be giving away a $25 Bass Pro Shops gift card to one lucky winner every half hour.
6 p.m. to 8 p.m. —Families can take home a 4x6 no-cost photo with Santa.
6 p.m. to 8 p.m. – Kids can color Christmas stockings and the first 125 kids will receive a Santa backpack clip.*
The highlight of Bass Pro Shops Santa's Wonderland is the big guy himself. Those visiting Santa Claus will receive a no-cost 4 x 6 studio-quality photo that will be cherished for years to come. Every store will also have an animatronics talking caribou that can interact with the crowd. In addition, Bass Pro Shops is offering no-cost Christmas decorations and hand-made crafts to take home. Holiday crafts for kids will include making holiday ornaments, a stuffed Christmas owl and Santa, a candy cane reindeer, and even decorating Christmas cookies on Dec. 24 from 3 p.m. to 5.pm. at most locations.
Photo with Santa

Weekdays, 3 p.m. to 8 p.m.
Saturdays, 10 a.m. to 8 p.m.
Sundays, noon to 5 p.m.
Crafts

Weekdays, 5 p.m. to 7 p.m.
Weekends, noon to 5 p.m.
Games and activities

Every day, open to close during regular store hours.
Visitors look forward to Santa's Wonderland as a way to bring families together in the spirit of the Christmas season.
"My favorite part is that it puts a smile on my daughter's face," said Mark of Ft. Lauderdale, Fla. after visiting the Santa's Wonderland at the Bass Pro Shops in Fort Lauderdale. "It really allows her to experience what Christmas is all about."
Anna, a customer at the store in Orlando, Fla., said, "The fact that the whole experience is for free –the coloring, the games, all of this—all the expenditures that they do and don't expect anything in return is just amazing."
Christy, also from Orlando, said, "Getting the picture for free is amazing—I don't know of anybody else that's doing that."
Bass Pro Shops has thought of every detail to make this Christmas experience memorable with a no-wait Bass Pass to see Santa. This allows parents to set appointments to see Jolly Old St. Nick so they can shop or enjoy the activities at Santa's Wonderland instead of waiting in line. Photo packages and Christmas cards will also be available for purchase with instant print in the store.
For more information about Bass Pro Shops Classic Christmas traditions at Santa's Wonderland, visit http://www.basspro.com/santa and click on your local store for a complete schedule of Santa's Wonderland activities.
*Event occurs in 57 stores--World Wide Sportsman in Islamorada, FL is not included.
*Activities, games, crafts and displays vary by time and location.
(MEDIA NOTE: Media may also visit http://www.basspro.com/santamedia for a complete photo package, video and event logo.)
Media contact: Tammy Sapp, tsapp(at)basspro(dot)com, 417-873-5022.
About Bass Pro Shops®
Bass Pro Shops®, which specializes in outdoor fun, operates 80 retail stores and Tracker Marine Centers across America and Canada that are visited by more than 116 million people every year. Bass Pro Shops' stores, many of which feature restaurants, offer hunting, fishing, camping and other outdoor gear while their catalogs and website serve shoppers throughout the world. The company's Tracker Marine Group® (http://www.trackerboats.com), which has produced the number one selling brand of fishing boats for more than 35 years, manufactures and sells a variety of boats for fishing and cruising. Family fun is on tap at Bass Pro Shops' resort Big Cedar Lodge® (http://www.bigcedar.com), voted number six by Travel + Leisure Magazine as World's Best Hotels for Families. For more information, visit http://www.basspro.com/. To request a free catalog, call 1-800-BASS PRO. Follow us on Facebook at http://www.facebook.com/bassproshops.