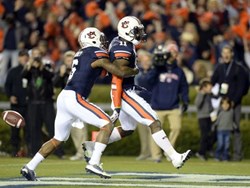 (PRWEB) December 04, 2013
This hot topic is one that cannot be discussed enough right now, as the ways of the current BCS system cause extreme controversy. Thankfully, the horrid ranking system will move to a playoff system next year, and hopefully questions like these will be side stepped. With that in mind, which college football team should play in the BCS National Championship with, the likely contestant, Florida State?
As the polls stand right now, Florida State University stands at number one, and will most likely stay there as they will be playing ACC rivals Duke in the conference championship game. There seems to be no issue with concern of Florida State's abilities and it's reasoning for being number one. However, it is the number 2 and 3 spots that are posing a problem.
Currently at number 2 is the Ohio State University football team, and at 3, Auburn. Many believe that Ohio State's strength of schedule should be keeping them out of the national championship, despite their undefeated record. If one were to use that argument, however, then the same could go for Florida State. Teams lower in the ranking who have only one loss on the season include Auburn, Alabama, and Missouri. These teams are all a part of the SEC conference, and have much tougher schedules than those top two teams. For those who say Florida State and Ohio State deserve their positions because of how much they have beat each of their opponents by, that may be true, but then we could go right back to the strength of schedule argument.
Really, if a number 4 ranked team beats the number 1 team and past two years national championship, shouldn't they jump the overrated number 3 team? One would think. But most likely in this system, that is just not going to happen. Auburn will be playing in the SEC championship game and Ohio State in the Big Ten, so it would have to take a Ohio State loss or a horrible win for any jumping to occur.
When the SEC championship is over, Auburn will have faced 10 bowl eligible teams this year, and Missouri 8. Ohio State will have faced 7 by the end of their conference championship, but at the same time have not faced a team as good as either Auburn or Missouri since 2010. The real truth is that if Ohio State wants to be considered for a national championship title, then they should switch conferences, and then stay undefeated. Maybe next year's new system will take away some of these issues that arise, but until then, the controversy and politics of the BCS system continue. Fans that want to experience the madness live can find their Auburn tickets or Ohio State football tickets at http://www.Ticketmonster.com.
College football tickets will be available at Ticket Monster for the conference championships, bowl games, and BCS National Championship. Fans can purchase their tickets at http://www.Ticketmonster.com, where prices are the lowest on the web. Ticket Monster never charges service fees, and the website includes an easy check out system for customer satisfaction. Visit the site today or call 866-217-4777 for 2013-2014 college football and BCS tickets.