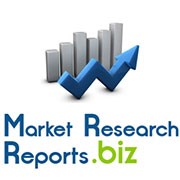 Albany, New York (PRWEB) August 14, 2013
Customer Relationship Management (CRM) is a model of managing relationship and interaction between company and customer. This includes using technology for organizing, automating, and synchronizing all customer-related information like sales, marketing, services, support and more.
To check out the complete table of contents, visit: http://www.marketresearchreports.biz/analysis-details/big-data-in-customer-relationship-management-crm .
Big Data represents more than just a collection of data sets that form a large quantity of data, which is difficult to process using traditional data processing applications. Big Data also represents a big business opportunity; it is poised to do more than just improve CRM. Big Data and related analytics systems and processes are poised to revolutionize customer-provider relationships, interactions and even business models.
Browse All The Reports Of This Publisher. Visit: http://www.marketresearchreports.biz/publisher/4 .
This report evaluates the utilization of Big Data and analytics to optimize and transform customer relationship management (CRM) systems, processes, and procedures. The report includes case-studies for CRM systems that are employing Big Data. The provides analysis of companies providing Big Data solutions for CRM systems. The report also provides a view into the future of Big Data in CRM including challenges, opportunities and outlook.
To Browse All Reports of This Category, Visit - http://www.marketresearchreports.biz/category/158 .
Report Benefits
Identify Big Data vendors to CRM
Understand the role of Big Data in CRM
Understand the challenges of Big Data in CRM
Identify CRM companies employing Big Data solutions
Understand CRM improvements from Big Data solutions
Gain insights into the future of CRM with Big Data and analytics
Companies in Report:
Avanade
Cegedim
Ecenta
Hexware
IBM
MetaSoftTech Solutions
Microsoft
Oracle
SalesLogix
WorkDigital
Zoho
To Buy a Copy of This Report, Visit: http://www.marketresearchreports.biz/analysis/172787 .
Target Audience:
Big Data companies
CRM systems developers
Governmental organizations
Telecommunications companies
Analytics and data reporting companies
Data storage and processing companies
Research and development organizations
Cloud infrastructure and service providers
Wireless and online CRM application developers
Retail and wholesale products and services companies
Table of Contents:
EXECUTIVE SUMMARY5
INTRODUCTION6
WHAT IS BIG DATA?6
Volume7
Variety 7
Velocity7
BIG DATA CATEGORIES7
Structured Big Data 7
Un-structured data 7
Semi-structured data7
DATA MINING 8
Data mining techniques8
DATA WAREHOUSING 8
IMPORTANCE OF BIG DATA 9
Pattern Discovery9
Decision Making 9
Process Invention10
Increasing Revenue10
BIG DATA GROWTH DRIVERS 10
Awareness 10
Software10
Services 10
Investment10
BIG DATA CHALLENGES 10
Data Challenges11
Process Challenges 11
Management Challenges12
BIG DATA TECHNOLOGY 12
Sensors12
Computer networks12
Data storage 12
Cluster computer systems 12
Cloud computing facilities13
Data analysis algorithms13
OVERVIEW OF CRM SYSTEMS14
WHAT IS CRM?14
BENEFITS OF CRM15
Strong Focus on Customer 15
Complete View of Customer Information15
Discovering Potential16
Realistic Market Potential16
About Us
MarketResearchReports.Biz is the most comprehensive collection of market research reports. MarketResearchReports.Biz services are especially designed to save time and money of our clients. We are a one stop solution for all your research needs, our main offerings are syndicated research reports, custom research, subscription access and consulting services. We serve all sizes and types of companies spanning across various industries.
Contact
M/s Sheela
90 Sate Street, Suite 700
Albany, NY 12207
Tel: +1-518-618-1030
USA – Canada Toll Free: 866-997-4948
Email: sales(at)marketresearchreports(dot)biz
Website: http://www.marketresearchreports.biz/
Blog: http://bccresearchreports.blogspot.com/
Blog: http://mresearchreports.blogspot.com/