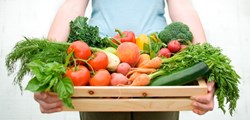 Now, buying LED grow lights online is safe, secure, and nearly anonymous.
Los Angeles, CA (PRWEB) September 19, 2013
VeggieFresh LED, who can be found at VeggieFreshLED.com, can be added to the list of businesses accepting Bitcoin as a payment method for online purchases. Now, buying LED grow lights online is safe, secure, and nearly anonymous.
Citing growing demand and privacy concerns for online purchases, VeggieFresh LED's acceptance of Bitcoin is part of a growing trend in the LED grow light industry. While a majority of their customers are individual & greenhouse growers of vegetables, herbs, and fruits, some are growers of cannabis in states where it is legal.
Using Bitcoin offers buyers an increased level of privacy in online transactions. Because there is no bank involved like when using a debit or credit card, Bitcoin purchases are much like using cash; there is no paper trail. In addition, if using a service like the Tor Project, online purchases are nearly impossible to trace, providing near total anonymity.
In addition to privacy and anonymity that customers enjoy, eCommerce businesses such as VeggieFresh LED like using Bitcoin because of the much lower processing fees when compared to traditionl merchant services. Bitcoin also offers a high degree of fraud protection when selling products to overseas customers because purchases cannot be charged back like credit card payment can. This allows VeggieFresh to keep their costs low and pass the savings on to their customers.
About VeggieFresh LED
VeggieFresh LED is a technology firm specializing in efficient horticultural products and operates in the business to business and business to consumer markets. VeggieFresh sells directly through its website, VeggieFreshLED.com, and through approved distributors and retailers. To browse all available products and learn about VeggieFresh LED's support of indoor survival gardening, visit the website. For sales or distribution inquiries, please call # 1-800-850-5131.