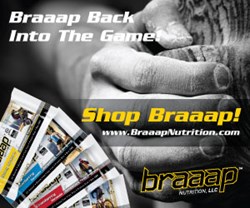 Wholesome ingredients, taste and nutritional punch of the bars works across all my training and outdoor activities.
Fort Collins, CO (PRWEB) December 03, 2013
Braaap Nutrition, LLC (http://www.BraaapNutrition.com), the locally produced an all-natural, gluten free, soy free, protein rich, preservative free, and Non-GMO nutrition bar company announced the rebrand of their product line and website redesign of http://www.BraaapNutrition.com.
Growing in popularity nationwide, the company that has traditionally catered to the motocross and supercross industry, refreshes its look to jumpstart outdoor enthusiasts and adventure junkies. Sporting the same great taste and matchless nutrition, Braaap is the go for the places you go.
"Our decision to rebrand spurred from Braaap working so well for so many different people and activities," said President and Co-Founder Todd Sledge. "We kept the name Braaap to stay true to our roots, but we want as diverse of a population as possible to try our high quality, organic product."
Braaap Nutrition put on their game face realizing their athletes' appetite for adventure is limitless. Rebranding their track to success, the Braaap Nutrition Bar varieties now sport snapshots of climbing, running, and downhill mountain biking, while still staying true to their motocross roots.
"We all share a passion for athletics and the components that it takes to be successful in any sport, one of which is nutrition. Braaap Bars are the ideal food for athletes who need quick, clean calories that will digest instantly and easily, even while you are moving," said former Pro MX/SX Champion, David Pingree of Racer X Magazine.
Translating adrenaline from the bar to the web, Braaap gives its customers an opportunity to connect with a face, a passion, a true reflection of what they can achieve.
"Every step was and is a learning process. It's humbling that our community continues to stand behind us as through ups-and-downs," said President and Co-Founder Shauna Sledge.
Beyond the face is the formula. With unparalleled nutrition at the core of Braaap, "What's In Your Bar" gives prospective customers an interactive experience to get a closer look at the ingredients. Packed with great taste and energy from Colorado wildflower honey and coconut oil, New Zealand whey protein, and the matchless natural powers of Guarana, Braaap jumpstarts taste buds and energizes for any adventure.
"I'm always between workouts, or working, traveling to races, and do not always have the time to prepare all my meals in advance. Having a Braaap bar handy, or on the BooBus, is always a great choice - tastes good, gluten free, provides steady energy and, most importantly for an endurance athlete, it is also super easy on the stomach," said Pro Cyclist Rotem Ishay of Boo-TrainingPeaks Pro CX.
As proud sponsors of athletes, teams, and sporting events nationwide, support of community through nutrition and wellness is the pulse of Braaap. Featuring high-quality-grade photographs of their sponsored athletes and teams enrich web experience and encourage visitors to get out and Braaap.
"I have refuled with Braaap since they first entered the motocross scene, but have found that the wholesome ingredients, taste and nutritional punch of the bars works across all my training and outdoor activities," said Head Coach Seiji Ishii. "Road and mountain biking, trail running, weight training, CrossFit, and climbing have all been fueled by Braaap with phenomenal results. Plus, it feels good to know that the company is comprised of good people. I consider Braaap a staple in my refueling strategies."
Braaap Nutrition helps individuals tread on the right energy no matter the adrenaline packed sport or adventure on the horizon. Whether they are in the market for nutrition bars or cycling bibs, Braaap has you covered.
"As a professional athlete, I am very conscious about what I put in my body and what I will get out of it." said Pro MTB US Downhill Junior Champion, Alex Wille.
The Sledges dream of Braaap being a household name, continue building a solid reputation as a high quality product and be the go-to bar choice for athletes and enthusiasts around the globe.
"As a professional motorcycle racer I travel all over the world," said Pro MX/SX Champion Andrew Short. "Braaap Bars are my pick because they are gluten free, a Colorado company and we both share a passion to be the best."
With athlete and event sponsorship applications directly on their website, Braaap Nutrition strives to be the start to your finish, providing an easy process while shopping.
"My wife and I just finished the Merrell Down & Dirty 10K mud run with our team The Max Muscle Mudders," said Jon Meyer, owner Max Muscle Placerville. "The complex carbohydrates in these amazing bars gave us the energy we needed to complete a 10K race and get through those obstacles."
Rolling out the new website is but the first step. Expect new flavors and products without compromise of ingredients and taste in 2014.
About Braaap Nutrition, LLC
Launched in 2011, Braaap Nutrition is influenced by riders, racers, and outdoor enthusiasts on the tracks and trails of Colorado. The revolutionary Braaap formula is balanced with clean, quality ingredients to energize with natural foods. The Braaap Nutrition Bar is a superior food that delivers energy-infused nutrients and protein to meet the demands of today's toughest athletes and adventurers. Braaap Nutrition is based in Fort Collins, CO.
Braaap Nutrition is committed to producing unrivaled products and be the vigor for adventure. Jumpstart your journey with Braaap Nutrition. Braaap!
Please visit us online at http://www.BraaapNutrition.com or call 1-855-8-BRAAAP to place an order.
Connect with us on Facebook: http://www.facebook.com/braaapnutrition.
Follow us on Twitter: http://www.twitter.com/BraaapNutrition.
Braaap Nutrition Testimonials: http://www.braaapnutrition.com/testimonials.
For more information or to schedule an interview, please contact Press Relations Manager Julia Blyumkin at 970-221-5007 ext. 808 or julia(at)sagemg(dot)com.