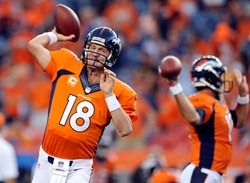 Denver, Colorado (PRWEB) September 07, 2013
On Thursday night, September 5, the Denver Broncos routed the Baltimore Ravens in a crushing 49-27 win. Along with the victory, some records were tied, too. Peyton Manning started off the 2013 season right as he had seven touchdown passes in the game, something no one has done in the NFL in 44 years. This game was not only the season opener, but a much anticipated game for the Broncos, as it was the Ravens who ended their 2012 season last January.
Manning is just the sixth quarterback in NFL history to throw seven touchdown passes in a game. The most recent quarterback to do so was Joe Kapp in 1969. Not only did Manning make history Thursday night, but he also threw for 462 yards, and had zero interceptions. It was clear from this game that the Broncos are ready for 2013, practiced hard in the off-season, and wanted nothing more than to destroy the Ravens. Manning had two touchdown passes to each of three different players, including Wes Welker, Julius Thomas, and Demaryius Thomas, and one to Andre Caldwell.
The Ravens were even with the Broncos until the third quarter, when they fell behind 35-17. Joe Flacco, the Baltimore quarterback, went 34 of 63 for 362 total yards, along with two touchdowns and two interceptions. As one of the highest paid NFL players, Flacco did not exactly demonstrate those earnings Thursday night. Peyton's last and record tying touchdown was only air born shortly, but Demaryius Thomas ran the ball 78 yards downfield to tire the Ravens defense and score the last touchdown.
The next Broncos game will be played away against the New York Giants. This will be an exciting game for fans, and tickets are going fast. To purchase your seats, visit http://www.Broncos-Tickets.org, the number one stop for Denver Broncos Tickets. Customers who visit the site can also purchase Broncos tickets to any other game for the 2013 season, as they are all now available. To read more about Peyton and the Broncos in the 2013 season, visit http://www.Broncos-Tickets.org. Here, customers can find the lowest prices on the web for Broncos tickets and great customer service, as well as a social media fan hub to stay connected.