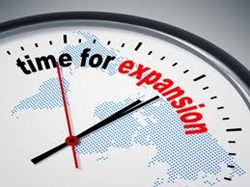 A business expansion is essentially a revolution -- it overthrows and remakes the framework of your company.
Las Vegas, NV (PRWEB) December 13, 2013
Industry leader Wise Business Plans shares five tips for planning and managing your company's expansion.
1. Know your market demographics and understand how they've affected your success. Is business booming? That alone often makes business owners start planning for rapid growth. But many factors affect the success of each location. By understanding the demographics and market trends -- and, of course, the competition -- in the area where you are already succeeding, you can calculate whether an area with similar demographics may be ripe for expansion. Taking the success of one location for granted without reviewing the reasons for its growth can lead to poor choices that can drain your finances and cancel out the success of the first location.
2. Carefully review your options for expansion. Will you buy the space next door and enlarge your already thriving location or try to add a storefront in a neighboring area? Do you add a complementary seasonal business to support and supplement the one that's already doing well for half of the year, or do you create a multi-faceted, year round e-commerce portal for out-of-season shoppers? Expansion plans should be as unique as the business itself -- there is no one-size-fits-all option.
3. Put your financials under a microscope. "Now is the time to really get down into the nitty-gritty details of your finances," said Wise Director Joseph Ferriolo. "Take this opportunity to reconnect with the vital nuts and bolts of your business that can sometimes become a little lost in the day-to-day routine. Whether you been in business five years or 50, expansion shakes things up, and you have to know what you're dealing with from the very moment you seriously start considering that kind of growth."
4. Be honest with yourself about your funding needs. Consider how to fund your expansion and start researching potential investors before becoming set on an expansion plan. "Flexibility is key," said Ferriolo. "It may seem like a great idea to put all of your savings and profits into making a new location or an expanded operation work. But what are you risking by doing that? How many people depend on you? Seriously assess the possibility of outside funding and where that kind of investment will come from before making the final decision to expand."
5. Be prepared to plan. "A business expansion is essentially a revolution -- it overthrows and remakes the framework of your company," said Ferriolo. "You need to be prepared to approach planning with the same kind of mental and time commitment you would for a brand new business."
Luckily, he said, help is available.
"At Wise, we help expanding businesses from around the world plan for success every day. When your company is ready to grow, we'll be here."
Wise Business Plans (http://www.wisebusinessplans.com), staffed with professional MBA writers, researchers and financial experts, is a trusted partner for businesses across a broad spectrum of products and services. Our mission is to empower our clients to make the best possible business decisions, boost company performance and facilitate their funding success by laying the groundwork for strong businesses that excite, inspire and retain talented and exceptional employees.